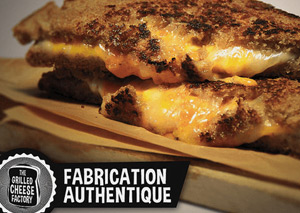 We here at eNJoynj.com like to promote small businesses in the Garden State and occasionally we find ourselves delightfully discovering a new small venture. Ding, Ding, Ding, I think we have a winner! You might think a concept like The Grilled Cheese Factory would be a natural for say, someplace like Green Bay, where the patrons could show their love of the product on their heads. But we here in Jersey think that great food should be eaten, not worn like a pirate hat with holes. So we present to you an eatery that will never be confused with Daniel's or Le Cirque. But I gotta tell ya, it just screams New Jersey. On a cold night in February, quick comfort dinners at many homes across the state might consist of soup and a grilled cheese sandwich. Throw a couple of pieces of bread together with a few slices of American cheese and grill to perfection. Or I hear a clothes iron can be successfully used as well as long as you don't hit the cotton setting, which can scorch the bread (don't use the silk setting either…comes out too soggy).
Or you can just leave it to the professionals. The Grilled Cheese Factory is the brainchild of 23 year-old David Chiarolanzio (geez, at 23, I was just learning guitar chords and trying to pick up girls on the boardwalk in Seaside!). His idea was to create a different kind of semi-fast food joint that would cater to a hip crowd, both day and night. One of the best ideas he has come up with is keeping the place open until 3:00 in the morning Thursday through Saturday night to cater to the nightclub crowd looking for something tastier than a Big Mac or diner breakfast. Brilliant!
They feature 19 different sandwich combos and you can also design your own with choices of breads (multi grain, Italian, garlic, tortillas), cheeses and extra ingredients. Take a gander at some of the mouthwatering selections from their menu:
Cheesy Mac and Rib (barbeque pork with mac and cheese)
Veggie (tomato, eggplant, mozzarella, roasted peppers, balsamic vinegar)
Roast Beef and Cheddar on garlic bread
Tuna Melt (tuna, American cheese, tomato)
Italian (ham, salami, provolone, lettuce, tomato, onion)
Sloppy Joe (choice of meat, Swiss, coleslaw, Russian dressing)
Jersey Special (Taylor Ham, American cheese)
Roma (grilled chicken, toasted peppers, mozzarella, pesto sauce)
PBJ (grilled peanut butter and jelly) Throw in a banana and bring back Elvis!
Original (choose your cheese and bread, add tomato and munch away).
Here are all the details you need to know. Bon appetite.
Grilled Cheese Factory
28 Morris Street
Morristown
Monday – Wednesday 11:00AM – 9:00PM
Thursday – Saturday 11:00AM – 3:00AM