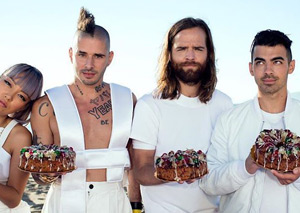 I met the Jonas Brothers. I admit it. My youngest daughter arranged the entire thing (I swear). Concert tickets, a sly backstage maneuver that any true Band Aid would have been proud of, a hotel reservation, and flights.
Yes, flights. You see, the concert was at the Atlantis Resort in Nassau, Bahamas. Did I mention my daughter is a Big Picture kind of girl?
Anyway, she declared Nick the talented one, Kevin the serious one and Joe the cute one. Alas, the Jonas Brothers are no more but individually, the boys continue on that Purity Ring Ride to stardom. Nick and Kevin may have moved on, but Joe has found himself a whole new set of playmates, and they are a smash success.
Fresh off their win for "Best New Artist" at this year's MTV Video Music Awards, this multi-platinum selling band DNCE has announced the release of their highly anticipated self-titled debut album. DNCE! Already platinum, they are now following up with a new release and a Global tour.
A little band background…
Formed in the summer of 2015, DNCE first introduced themselves to audiences worldwide with the release of their debut single "Cake By The Ocean," their now certified double-platinum breakout smash which has made them one of 2016's most buzzworthy acts. Released in September 2015 and included on the group's 4-track debut EP, SWAAY (Republic Records), the song entered the Top 10 on the Billboard Hot 100 chart. The song was a certified smash at radio, becoming one of the most played songs of the year. Internationally, "Cake By The Ocean" reached Top 10 on iTunes in over 10 countries and has generated over 400 million streams on Spotify worldwide. To date, global consumption for the song is over 6 million. 
The band's latest single "Toothbrush" made its mark this summer with a highly buzzed about music video featuring supermodel Ashley Graham. To date, the video has amassed nearly 40 million views, garnering wide critical praise from media outlets like Entertainment Weekly, InStyle, People and Rolling Stone.
Assembled by frontman Joe Jonas in the summer of 2015, DNCE's all-star bandmates include bassist & keyboardist Cole Whittle, who co-founded the band Semi Precious Weapons, South Korean bred guitarist JinJoo, who has toured with the Jonas Brothers, Charli XCX, and CeeLo Green, and drummer Jack Lawless, a Middletown resident who has previously joined the Jonas Brothers, Night Terrors of 1927, and Soft Swells on the road. The band recently wrapped a U.S. tour with multi-platinum singer and actress Selena Gomez in support of their debut EP, SWAAY.
If this doesn't get you, don't worry. Your kids are gonna love it!
Tuesday Feb. 7 Wellmont Theatre Montclair
8:00PM