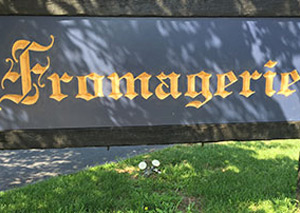 Some years ago I got to sit next to super chef and petulant personality David Burke in the wine cellar basement dining room at the Fromagerie in Rumson.
We discussed different ways I would represent him in a culinary reality show featuring his cuisine and his style. To be perfectly honest, now that years have passed and the Food Network has a hundred such shows in production, I can freely admit that I didn't hear very much of what he was saying as I was lost in a magnificent meal that I didn't want to interrupt!
So, imagine my horror and surprise when he closed the joint and moved on.
I kept thinking, "Maybe if I'd listened…"
Turns out it wasn't me. Fast forward to June of 2016.
When Paul Sansone and his wife, Enilda, first heard that the Fromagerie was going to close, their reaction was that this exceptional fine dining legacy had to continue. The Fromagerie has always made Rumson and Monmouth County proud. Paul and Enilda purchased the property and business to keep the tradition of this historic real estate and landmark restaurant alive. Enilda, with her unique vision, engaged a management team with a history of successful restaurant ventures, who have returned the Fromagerie to its original festive glory and recreated a fine dining experience, consistent with the history of this classic establishment.
Enter Brooklyn-born Steven Botta, of Brando's Citi Cucina, and Osteria Cucina Rustica in Marlboro. His ideas?
The restaurant's name will remain the same, but everything else is changing, Botta said. The new owners have expanded the first floor and added a bar to the second floor, where they plan to offer after-dinner music and entertainment on Fridays and Saturdays.
As for the food, diners can expect new American dishes with French and Italian influences, Botta said.
"I wanted to have an eclectic menu," he said of the fare, which will include staple dishes highlighted by specials that change with the seasons. Starters include escargot, foie gras, polenta with truffled mushroom fricassee, fried oysters with anchovy and white wine sauce, and smoked salmon with toast points and creme fraiche.
The menu will be expanded so as to have a new American tilt, with specialty entrees consistent with the expectations of our diners, yet having a link to the past. The quality of our food is served by an extraordinarily professional wait staff. The Fromagerie has, once again, exemplified all that is exceptional in fine dining. The Fromagerie will, once again, create wonderful memories for its guests.
Botta looks forward to breathing new life into Fromagerie, and he is not worried about resurrecting such an iconic local restaurant: "I have a passion for food," he said, and, with a laugh, "I don't get nervous."
Spoken like a true Brooklyn boy.