New Jersey's Number One 4-Season Resort. Do I have your attention?
Perfect, because I'm going to clue you in to a little oasis in the gorgeous hills and mountains of Northwestern New Jersey.
2 World Class Hotels
6 Championship Golf Courses
2 Revitalizing Day Spas
9 Seasonally inspired Dining Options
And that's just the beginning. Let's break it down…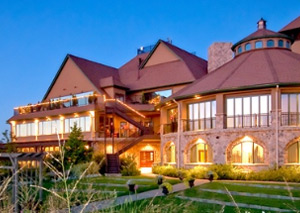 HOTELS
The striking architecture of the luxurious, AAA 4-Diamond Grand Cascades Lodge can be seen for miles across the valley, sitting amongst three world-class golf courses with the Kittatinny Mountain Range providing an immaculate backdrop. Unquestionably the finest property in the region, this Adirondack-style lodge sets the stage for the perfect harmony of luxury and nature's bounty, creating a four-star escape like no other. 
Whether you're looking for adventure or need a serene escape, Minerals Hotel is the ideal choice for families and the young at heart. Deluxe and Luxury Guest Rooms, plus lavish Presidential Suites make up the 175 room oasis set deep in the Mountains of the Appalachian Valley.
On-site amenities offer four seasons of fun, with our mountaintop Adventure Center, indoor/outdoor pools, Minerals Golf Course, Kites Restaurant and Moonshine, Elements Spa, Minerals Sports Club featuring 80+ fitness classes, indoor/outdoor heated pools, hot tubs, sauna, steam room, indoor tennis courts, racquetball and so much more!

GOLF
Crystal Springs Resort is the premier world-class golf destination in the Northeast with six championship caliber courses within a five-mile radius. Set among the Appalachian Trail through the Kittatinny range in beautiful northwestern New Jersey, the Resort has recruited the world's best golf course architects, von Hagge, Trent Jones, George Fazio and Rulewich, to create an amazing collection of upscale public golf courses. The golf experience at Crystal Springs is truly unparalleled!
SPA
Ranked Top 100 Spas in America!
Break free from the stress and toil of everyday life. Restore your body and mind in these celebrated spa resorts conveniently located in the New York metro area. Treat yourself to a spa getaway with our two award-winning spas, located within 5 minutes of one another.
Offering a new concept of luxury for day spas and resorts, our facilities include two distinct venues.
DINING
Diverse restaurants, which offer outstanding food in breathtaking settings, delivered with our honest hospitality.
Savor the flavors of locally grown and produced cuisine with a myriad of tantalizing choices with one common goal: to surpass your palate's wildest dreams. With your choice of an array of indoor and outdoor restaurants, bistros, pubs, and cafes, ranging from 4-star dining at the award-winning Restaurant Latour and accompanying world-renowned Wine Cellar to New Jersey's newest and freshest culinary experience amidst our very own Chef's Garden, your dining experiences at Crystal Springs will make for delicious memories.
THINGS TO DO
Fishing, archery, horseback riding, swimming, canoeing, kayaking, hiking, biking, trapeze, circus warrior ninja training! (yes, that last one caught me by surprise too).
It's all there waiting for you. Book now because the secret is out.
Crystal Springs Resort, Vernon
www.crystalgolfresort.com