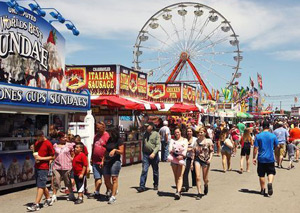 There have been hundreds of songs by artists like James Taylor, Neil Young and Paul McCartney, glorifying the "country," that magical place where peace and harmony coexist with nature, the men are good looking, the women are strong and the children are above average (as expounded in Garrison Keillor's Prairie Home Companion). This place really does exist, and even better, it exists right here in New Jersey. Go figure. People from other parts of the country have no idea how beautiful and rural some sections of this state are. They think of New Jersey and they see oil refineries and urban sprawl and toll booths. But we know, and we are so much more than that.
So let's get right to it. If you want the opportunity to eNJoy summer without the traffic nightmares of the Shore excursions or the shoulder-to-shoulder crowds at major concert events, you are in luck. There will be no better escape for the discerning family this month than the New Jersey State Fair Sussex County Farm and Horse Show.
Running from August 4 – 13, this ten-day show highlights the hallmarks of an old fashioned country fair, as well as lots of entertainment, food and shopping.
The six barns will be full of animals, the three rings will be showcasing horses, and there will be plenty for every member of the family to do. The RoNetco Supermarkets Family Entertainment area has K-9s in Flight, racing pigs, petting zoo, dinosaur fossils and a chainsaw artist. The Outdoor Entertainment Area features two demo derbies, a mudbog, tractor pulls, motocross and opening night concert. The Performing Arts Tent has free entertainment every day. A bit of history…
The Sussex County Horse Show is one of the country's oldest, running for 78 years beginning in 1919. Originally, it was held at the Branchville Fairgrounds, but moved to the larger venue of Sussex County in 1976. Since 1999, the show has been part of the official New Jersey State Fair. The horse events have been officially recognized by the American Horse Shows Association in 1950, upholding high standards. "We are very honored to be among the historic shows chosen," says Lisa Pellow-Stoner. The Sussex County Horse Show is the only show from New Jersey to be chosen, making this a very special selection. The Horse Show consists of three rings that alternate shows beginning with quarter horses and followed by a variety of classes of the Sussex County Horse Show which pulls riders from a number of states.
The Fairgrounds is located on 165 acres with 15 permanent buildings in Augusta, NJ. It is conveniently located near major highways. Fifteen permanent buildings include six livestock barns, a 5,000 square foot mahogany and glass Conservatory, Greenhouse, and 10,000 square foot Walter Richards building. Our indoor and outdoor space is available for rent and for low-cost usage by non-profit organizations. The Fairgrounds has significant field parking and is accessible for people with disabilities. The grounds and several buildings are available for rental for a variety of events.
This is one of those events that really can say there is something for everybody.
For 10 summer days and nights this show offers tons of family fun –
Rides, equestrian competitions, a Lumber Jack and Jill tournament, vegetable show, demolition derby, polka dance contest, and more! Where else on earth can you find so many diverse and delightful things to do in one place? It's all happening at the Sussex Fairgrounds in Augusta this month. Bring the kids. Bring Grandma and Grandpa. Aw, heck, bring the dog too.
August 4-13
Sussex County Fairgrounds, Augusta
www.njstatefair.org