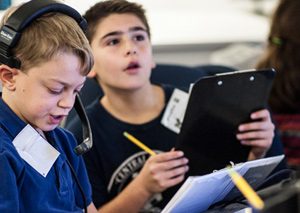 Where will our next NASA design technicians and engineers come from? Will they be the ones playing Pokemon Go on their Androids? Maybe. The youth of today are the most technologically intelligent generation ever. There are plenty of games for them to play, more phone apps than you can count and a plethora of computer programs that would boggle the mind of anyone who used to change the channels on the television set with a pliers. But some of these budding geniuses need more than games. Buehler? Anyone? Buehler?
"Buehler Challenger & Science Center provides an unforgettable experience for both children and adults. Fly a variety of different space missions in our simulator and enjoy our unique hands on experience to learn more about science and space exploration. We look forward to flying with you!"
Vastly set apart from the usual summer fare and vacation activities, these camps provide an alternative to what our children are used to. Here are a few offerings at the Buehler Challenger and Science Center…
• Exposure to engineering challenges to encourage careers in math and science
• Employ the engineering design process to tackle challenges similar to those faced by NASA engineers.
• Use engineering design process to design the next generation of spacesuits and space vehicles
• Fly missions in the space simulators
• Open house and award ceremony is the highlight of the week.
The mission of the Center is well defined:
* To inspire students, educators and the community in the pursuit of scientific     education;
*  Flyspace missions beyond your wildest dreams;
* Programs designed to foster team building, leadership and experimentation through inquiy-based learning.
They did not have programs and camps like this when I was young. Wait. Did they even have a space race when I was young? Whatever, this is an opportunity to do something different, exciting and with the promise that greater things are coming in this life. All we have to do is dream, learn, and work hard. Fly on.
August 1 – 5
9th to 12th Grades
Buehler Challenger and Science Center
www.bcsc.org