I've written before about my favorite local ice cream shop: Bischoff's in Teaneck, NJ. It's been a summer (and other season) staple for more than 80 years. I bypass the supermarket when I crave some all-natural maple walnut ice cream. After all, it's difficult to get ANY maple walnut ice cream pre-packaged. Tell me oh all-natural Breyer's – what is so challenging with a little maple syrup and some chopped walnuts? You do my right by your white-colored Mint Chocolate Chip….or as it sounds more natural to me: Chocolate Chip Mint.
I don't want green or blue or pink-colored ice cream! I don't want that poisonous-looking food coloring. For some reason, it's been three years since Ice Cream by Mike has been churning its homemade ingredients into delectable cold desserts on Main Street in Hackensack, and I am just learning of it now! I must attribute it to poor marketing. I could not be so out of the loop when it comes to a glacier, as Mike's card is titled, being only about two miles away from me. I would've smelled it. I should've heard it. I could've been eating it all this time!!
Tonight, closing time was 10 p.m., and I made it in the door at 9:52. I got a visual sneak preview on the Facebook page of Mike making his own caramel, of caramelized vanilla beans, of his own hot fudge. It doesn't get more from scratch than this. He has about eight flavors at any given time, and they change daily.
My friend ordered a cone of the Valrhona Chocolate. Mike knew it was great; why? Because, "I use the best chocolate." Valrhona is a French premium chocolate manufacturer based in the small town of Tain-l'Hermitage in Hermitage, a wine-growing district near Lyon. They claim to produce the world's finest gourmet chocolates. Me being half Swiss, I might ask them to prove themselves.
I looked at the board and looked in the freezer case. I wasn't matching the name on the board with any of the tubs I was seeing. But my poor Baskin-Robbins brainwashed eyes didn't recognize it, even thought I don't eat that ice cream. It's the way we see it growing up; it's the way we see it in every horribly processed carton of store bought ice cream. Do you know what this is?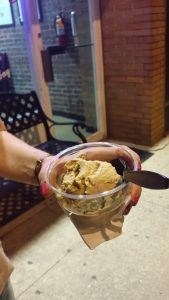 I'll give you a moment. Coffee? Caramel? No! It's pistachio with whole pistachio nuts that taste like they were just popped out of the shell. And the ice cream tastes like…oh, real pistachio. Imagine that. Well you can do more than imagine. You can go taste it yourself.
Mike gets creative with flavor combinations. He mentioned he would be making a batch of peanut butter honey tomorrow. Maybe this was his subtle way of getting some quick repeat business.
For sit-down atmosphere, I may still opt for my guaranteed availability of maple walnut at Bischoff's. If I'm open to any other flavor and need a quick fix, I'm heading to Hackensack. Mike's place has a few iron tables and seats on the sidewalk, but they're facing a construction site on the other side of Main. I will give him major points, though, for the music being piped outdoors – some Nat King Cole, Bennie Goodman, Louis Armstrong.
Evelyn Weiss Francisco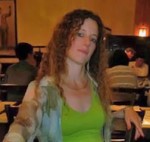 is a Foodie and blogger from the Garden State. Her Blog, "Dishing on Dining", has been running continuously since January of 2012. By day, Evelyn is a busy account executive with a Public Relations firm, by night, a writer with a passion for all things food related.