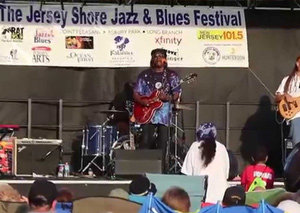 You cannot separate music and the Jersey Shore no matter how hard you try. It is ingrained into our collective DNA. Surf and song go back to the earliest days of Atlantic City venues when every great jazz and blues artist found their way into the music clubs and casino lounges while on their big city national tours. It was a destination that always offered true enthusiasts and fans that would dance, sing along or just revel in the pure joy that the vocalists and instrumentalist would bring. The rock and roll clubs exploded in the 70's with the advent of acts like Bruce Springsteen and Southside Johnny. And today, the newest and hottest bands in America are finding their way to the hip Asbury Park stages and at joints up and down the Shore from Wildwood to Sea Bright.
With the knowledge that there is a more-or-less built-in audience for any style of music along our coastline, the powers that be put together a celebration that has grown and grown over the years – The Jersey Shore Jazz and Blues Festival. Having completed the first two legs of the trilogy, the first being in Point Pleasant in June and the second in Asbury Park in July, August's offering will take us to Long Branch for the crown jewel in the jamboree – The Long Branch Jazz and Blues Festival at the Great Lawn (on the Boardwalk) at Cooper Avenue.
Taking center stage as always, is the music. For first-timers and veterans alike, here is a rundown of some known and some new acts that will present on August 29th:
Stringbean and the Stalkers – An innovative blues collective also featuring country, jazz and zydeco.
Sherri Pie Band – Sherri, along with some of the Jersey shores finest musical chefs, has been cooking up a savory blend of palatable grooves, jazzy and delicious harmonic sonic blends for the masses.
Jonny B and the Blues Blazers – A high energy harmonica driven blues band with a "twist." Notably, they are recipients of a Council for the Arts & Humanities performance Award for 2002.
Brianna Thomas – "Right off the bat, 28-year-old Jazzmobile competition winner Brianna Thomas shatters three of my commandments: She scats to excess; she sings "Skylark"; and she has the chutzpah to compose her own songs. Yet she does all of these things with such impeccable taste and musicianship that she may well be the best young straight-ahead jazz singer of her generation. " – WSJ
Saron Crenshaw – Saron's love is the Blues and he has been inspired by some of the greatest singers and players of all time. SaRon plays a Gibson "Lucille" model guitar signed by B.B.King himself!
Funktion 11 – With their outstanding original compositions and dynamic interpretations of iconic and contemporary hits, Funktion 11 brings an international and contemporary spin to the funk tradition with three lead vocalists, an electric guitar, electric bass, keyboards, a four-piece horn section, drums and percussion.
In addition to the fabulous music there will be fireworks, exotic and regional (re:NJ) food, and plenty of kids' activities, along with, of course, the beach!
This would be an excellent way to say goodbye to another banner New Jersey Shore Summer!