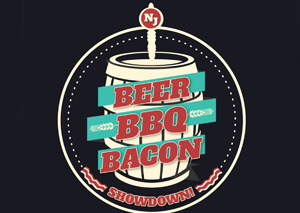 World Health Organization be forewarned. We are here to party, drink and eat. And yes Virginia, we will be eating meat – bacon, barbeque and beef, and we'll be washing it all down with the best craft beer in the good old USA. Because that's what we do. As Americans we celebrate our unique heritage every day, in a way that sets us apart from the rest of the world. Forget Mr. Trump. Beer is making America great again! And as always, New Jersey leads the way.
Get set for the Beer BBQ Bacon Showdown (aka B3), taking place Saturday, November 7 at Waterloo Village Concert Field in Stanhope, NJ. This is the first festival to feature New Jersey-only craft beer, restaurants, food trucks and chefs, with a mouth-watering array of BBQ & bacon creations available for purchase.
20 great New Jersey breweries will be in attendance, each pouring 4 styles of beer (and one of these styles will either a rare beer or a brew specifically created for the festival!).
B3 will take place outdoors & under tents. Attendees will also enjoy fabulous live music from 2 great NJ bands: the Acoustic Alt-Country Blues-Rock sounds of Stepping Stone and high-energy covers from Mr. Lovejoy.
And to add to the all-Jersey excitement, there will be a competition to showcase culinary skills, with a panel of NJ celebrity judges choosing the best of the best, along with People's Choice awards for Best Dish & Best Beer.
The VIP Hour (sponsored by New Jersey Craft Beer) takes place from 1pm – 2pm and will feature a meet & greet with the Brewers, Pitmasters & Chefs, first access to rare & special beers and appetizer samplings prepared by Tim "The Brew Chef" Schafer.
Both VIP and General Admission ticket holders will enjoy unlimited samples of beer, a mason jar mug and People's Choice Ballot. Beer BBQ Bacon Showdown is truly a one-of-a-kind New Jersey event. There is no other festival with NJ-only craft beer and food. Don't miss a chance to celebrate the best of New Jersey!
NJ Breweries (to date):
Angry Erik Brewing (Lafayette Township), Beach Haus Brewery (Belmar), Bolero Snort (Ridgefield Park), Carton Brewing (Atlantic Highlands), Cricket Hill (Fairfield), Flying Fish (Somerdale), Magnify Brewing (Fairfield), Ramstein Brewery (Butler), Tuckahoe Brewing Company (Ocean View), Gaslight Brewery & Restaurant (South Orange), 902 Brewing Company (Hoboken), River Horse (Ewing Township), Climax Brewing Co (Roselle Park), Forgotten Boardwalk Brewing (Cherry Hill), Demented Brewing (Middlesex), Cypress Brewing Co. (Edison)
[Full list of styles to date is available at: http://njbeerbbqfest.com/breweries]
NJ Food (to date):
Hot Rod's Real Pit BBQ (Wharton), Kimchi Smoke Barbecue (Hackensack), NJ Bar & Grill (Mine Hill), Smokin Chicks Got Wood BBQ (Bridgewater), Oink & Moo BBQ (Florham Park), Miller's Ale House (Woodbridge), Texas Smoke Barbecue (Jefferson), Sullivan Catering (Budd Lake).
Bring your best girl, or guy. Bring a positive attitude. Most of all bring your appetite.
Nov. 7
Waterloo Village
www.njbeerbbqfest.com