Paella! You all just conjured up a picture in your mind of streamers coming down upon a flat pan filled with yellow rice, shrimp, mussels, clams, scallops, something green like  peas and scallions or parsley, something red like pimentos or chopped tomatoes. It's so festive, it makes you relate to the word pinata. And for those that like big parties, you're envisioning some chorizo and chicken in there too!
I've heard that, "You can't get good paella in Spain or Portugal," but as it is with any other foreign dishes in America, we're used to the American version and expect exactly that. The Valencian dish is traditionally made with snails and rabbit and beans and definitely not with boxed yellow rice. It's not the blast of color you had before your eyes a few seconds ago. This looks like a party without music and dancing, but I bet it's delicious once you get past your narrow-minded, bastardized definition of 'paella'.
But if you want to have your colorful streamers in the U.S., then the place to have it is in New Jersey. From two residents of Newark in the 1870 Census to almost 80,000 statewide in 2000, New Jersey has the fourth largest Portuguese population in the United States. They are heavily concentrated in Newark, where 25% of the population is Potugese. It's easy to find a good paella in the Ironbound section. Try Fornos of Spain, Spanish Tavern, Iberia's Tavern, Don Pepe and so many others.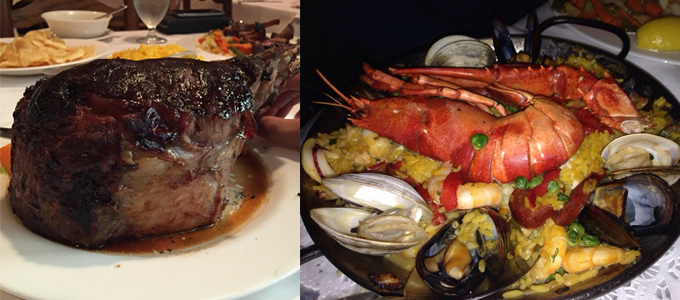 In Bergen County, diners are usually on the El Cid (Paramus) team or the Segovia (Carlstadt). By geography and quality, I vote for El Cid. If you're cost conscious, then Segovia may be a better bet. El Cid sits far enough away from any mall on a quiet stretch of Paramus Road. There are three entrees you need to concern yourself with, depending on your mood: Paella (Marinera or Valenciana) – around $27, Twin Lobster Special (last time
I saw was $38) and the Prime Rib (it's up there). Before you squawk about the price, understand the portions. First, with the paella marinera, you get a half lobster included in the seafood. Second, the twin lobster special is special because you get three, each about 1.25 lbs. And third, everyone gawks in awe when a prime rib dish crosses the dining room. You wonder, where is the other half of that poor cow? It's enough to feed nearly four average-sized humans. There must be some kind of machismo associated with having that dish in front of you because it appears very gluttonous.
While Segovia is so popular, they opened another location down the road, I find El Cid's seafood an edge more tender and the paella a bit moister. Pick your team. They both play well. Or venture down to Newark before a hockey game.
Evelyn Weiss Francisco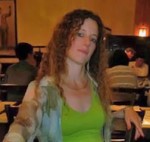 is a Foodie and blogger from the Garden State. Her Blog, "Dishing on Dining", has been running continuously since January of 2012. By day, Evelyn is a busy account executive with a Public Relations firm, by night, a writer with a passion for all things food related.