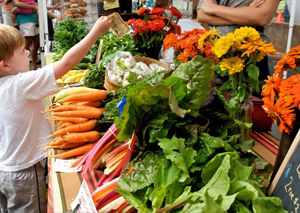 The artisanal foods movement, whose most visible manifestation just might be the tents and brimming tables at farmers' markets that fill fields and parking lots from spring through fall, is in full swing here in the Garden State. Nationwide, the number of community-hosted farmers' markets has grown from 2,863 in 2000 to more than 7,800 in 2012, according to the nonprofit, Virginia-based Farmers Market Coalition. In New Jersey, roughly 148 such markets will operate this season.
No one entity oversees farmers' markets in New Jersey, according to Lynne Richmond, a spokeswoman for the state Department of Agriculture (NJDA) in Trenton. Almost all are organized and operated by community organizations, many with municipal support, and staffed by volunteers. Each market sets its own rules as to what can be sold and where it has to come from. Almost all charge farmers a fee, currently averaging about $25 a day, says William Walker, an NJDA agricultural marketing specialist. But in most cases those fees don't cover the costs of running the market. As a grassroots movement, the markets tend to attract what the Rutgers study called "organizers who are dedicated and committed to serving the communities they know and care about."
Yet overall, the markets are big business. In 2007, says Richmond, 1,931 New Jersey farms generated $30.1 million in revenue through direct marketing, which includes sales at farmers' markets, roadside stands and at the farms themselves. Sales at any one market might seem like a pebble tossed in a pond, but the ripple is impressive. A farmers' markets study found that in 2010, the Flemington market, operated by the Hunterdon Land Trust, had an annual regional impact of $2.6 million.
While customers get a superior product at prices that average out to about what supermarkets charge, the people with dirt on their boots get a lifeline. "Farmers typically only get 50 percent of retail when selling wholesale, so this is a much more profitable way to sell their produce," says Walker. In addition, he says, the presence of farmers at local markets helps promote "agritourism visits by patrons, families and schoolchildren."
Here are a few of the choice spots where you can find fresh organic food in your neighborhood:
Blairstown        www.foodshedalliance.org
Hoboken        www.hobokenfarmersmarket.com
Montclair        www.montclairnjusa.org
Summit        www.summitdowntown.org
Sparta        www.spartafarmersmarket.org
Asbury Park        www.foodforthoughtap.com
Flemington        www.hunterdonlandtrust.org
Trenton        www.thetrentonfarmersmarket.com
Somerville        www.findsomerville.com
Stockton        www.stocktonfarmmarket.com
Berlin            www.berlinfarmersmarket.com
Collingswood    www.collingswoodmarket.com
Stone Harbor    www.stoneharborbeach.com