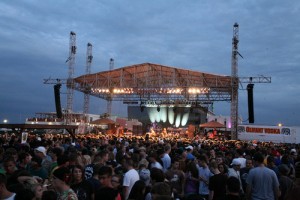 "The Perfect Place For A Festival,"
New Jersey Sets For Music Filled Day In AP
By Victoria Corinne
As the warmer months wind down and people begin to reminisce on their adventures, Asbury Park is gearing up for one last hoorah of the summer. On September 19, the Stone Pony SummerStage will host its first annual Shadow of the City festival. Creator of the event, Bleachers front man Jack Antonoff, has dreamed about this festival happening for a while now. In a recent Rolling Stone article, Antonoff dished on his reasoning behind starting the festival.
"It's something I've always dreamed about doing. I love music festivals, and I think that with the landscape of the music business rapidly changing, it's the one thing that is only getting better and more exciting. With all the conversations about the ways people consume music and about streaming, live music is just this rock. I've always wanted to do this. Even more than that, I grew up in New Jersey and lived there for 28 years. New Jersey is part of who I am. I've always thought that it's the perfect place for a festival."
Not only will Bleachers be headlining, but you'll also be able to catch performances by Charli XCX, Vic Mensa, the Front Bottoms, MisterWives, Cults, How to Dress Well and Robert Delong. There will also be food trucks, carnival games, arcade games, a Weird NJ pop up stand and much more on the festival grounds.
This isn't just another concert at the iconic Stone Pony, but a chance to celebrate New Jersey through one of the Garden States best qualities, the music scene. When asked why Asbury Park, Jack Antonoff quite simply stated that, "It's amazing to build a festival in a place that is home," and we 100% agree.
Tickets are available here:
http://www.ticketmaster.com/event/00004EC6B4A592E6