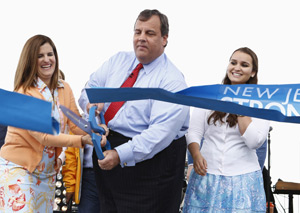 The Jersey Shore has recently seen the likes of some very high profile guests, monitoring the progress we've made since that horrible night back in October 2012. President Obama once again embraced (and played boardwalk games with) Governor Christie as their respective political parties stood by and shrugged. Television news crews and the hosts of The Today Show came down to "open" the beaches during Memorial Day weekend. But by far the most talked about visitor had to be Prince Harry, he of the Royal Family in jolly old England. He witnessed first hand the horror that the Jersey Shore has gone through. Then, when he was done talking to Snooki, he examined the Hurricane Sandy damage.
For many of us who live here at the Shore, and that includes myself, we could not conceive the magnitude of the effort needed to "Restore the Shore." Quite frankly, for anyone who viewed photos or videos or heard first-hand accounts of the carnage probably couldn't imagine it either. But then we remember, this is New Jersey. We can take a punch as well as we take a joke. So rebuild we did. Not to say that we are out of the woods by any means with the enormity of the reconstruction – many towns are still lacking basic services, with roads closed and houses still in rubble – but many towns along the coast are "open for business" as May turns to June. Here is an overview of what you can expect as you brave the Garden State Parkway, with dreams of sun, sand, surf and sausage and peppers in your mind…
THE BEACHES
Most beaches are fully open for sunbathing and swimming with the exception of a few. In Sandy Hook, Beach Area B and North Beach are open. Gunnison Beach, the state's only legal nude beach, is also open (a priority I suppose). Lavallette, Bay Head and Mantoloking will have limited access to the beach as those towns were hardest hit. Most, if not all beaches south of Seaside Heights will be fully operational with scattered services along the beach and limited restroom facilities.
THE BOARDWALKS
Belmar, Asbury Park, Point Pleasant Beach and Seaside Heights all had ribbon-cutting and televised openings on Memorial Day weekend. Other towns are moving a bit more slowly. Long Branch and Sea Girt are works in progress. All other towns are good to go.
THE RIDES AND ATTRACTIONS
Sadly, Seaside Heights Casino Pier is gone. The remains of the roller coaster submerged off the coast have been removed, and there are no rides along the boardwalk at all. Jenkinson's Breakwater Beach Waterpark and Casino Pier Go-Karts will be open. The rides in Point Pleasant Beach are fully operational (still love the Crazy Bus). Ocean City was undamaged and all rides and attractions are running.
THE RESTAURANTS AND NIGHTCLUBS
Point Pleasant Beach is alive and well with Jenk's and Martell's, the Broadway and the Wharfside, all open for business. Sadly, one of my favorite restaurants, Daniel's Bistro, was flooded out and is now located on Main Street in Avon-by-the-Sea.
In Rumson, McLoone's Rumrunner and Donovan's Reef will not be open. All others should be fully operational by summer, if they aren't already.
So there you have it. Come back to the Shore. You can have all the fun you want and say you're a part of history at the same time. We promise to treat you like British Royalty.