Merriam has been telling people who speak the English language that the noun "tavern" is 'an establishment where alcoholic beverages are sold to be drunk on the premises'. By that definition, I always picture a bunch of locals enjoying libations together and perhaps snacking on some simple food items that can quickly be grilled or fried, all in the most casual of atmospheres.
Either Tavern 5 in Pompton Plains, NJ, picked the wrong name for its restaurant, or Merriam needs to get with the times. It's not exactly around the corner from me, so I might not have even given the menu a look if it were not for my familiarity with the food styling of Executive Chef Anthony LoPinto, whose food I tasted long ago in a cooking class.
It was a Friday night, a packed house, and it's a reservation-free zone. My preconceived notions were quickly put aside as I took in the wood and brick textures, which felt like a modernized farmhouse. The large bar area with high-top tables was full of friendly chatter, chewing and sipping beneath the copper-tiled ceiling. The dining area consists of two rooms, one with bench seating against the wall and booths. The back room leads to an outdoor dining area, but it was winter, so we only saw the potential of the garden.
I knew we were in store for a little more than typical pizza and burgers when I grabbed hold of the leather (-like?) menu cover with a logo-stamped copper piece inlay. Sure, the recognizable pub-food words popped off the page: meatballs, wings, tacos, and one's eyes start to sarcastically roll until the eyes catch a glimpse of the heightened descriptions that change these routine food items into something desirable to order:
SPINACH & MEATBALL – rich meat broth, veal meatballs, spinach, egg
WINGS – Jim Beam maple glazed chicken wings, fresh chives
TACOS – Steak tacos, avocado, queso blanco, champagne vinegar slaw, chipotle aioli, tortilla chips
All the elaborations were so flavor-enticing, the four of us each ordered something different so we could share in the exploration. For the first round, we tried the Crab Cakes with noticeable jumbo lump crab, citrus aioli, baby greens. There was a special stone-fired Clam Pizza with clams out of shell, arugula and garlic. The dough had an intentional chewiness and was laden with too much garlic for this vampire. Garlic lovers would devour it though. The Arrancini was not the baseball-sized fried rice balls; they were five bitable munchkin-sized balls with bacon, cheddar, sweet corn, on a sufficient smear of chimichurri sauce. The New England Clam Chowder was nicely flavored with the typical potato, bacon, cream and clams, with the addition of carrots. The chowder was not predominantly potato, as some can be.
The main courses were near faultless. The generous six seared scallops were plump with a little breadcrumb crunch, nestled in butternut squash risotto, surrounded by a moat of green apple broth. The Linguini Bolognese consisted of three different meats that are braised separately, so each is cooked perfectly: veal, short rib, pork. The pasta was fancifully presented, almost stacked like a pyramid. The Chicken Tacos may sound boring, but they three soft tacos sit in a holder, filled with blackened chicken, pico de gallo, slaw, avocado and cilantro crème. They order different components with the steak and fish tacos.
The prize dish of the evening, though was the Braised Short Ribs, braised with red wine and coffee. The meat was cooked to tender, but herein laid the near faultless: there was a slight heavy hand on the salt, which we all agreed upon. Otherwise, delicioso. (I'm not sure why reminiscing on those ribs just turned me Italian.)
I was full enough at the point, but I needed to try the coffee they boasted about on Facebook, directly from Toca roasters up the road. And of course, this had to be accompanied by ice cream from a small batch shop in the Hudson Valley.
It may be difficult not to judge an eating establishment by its name, but unfortunately, in this fast-paced world, we dismiss quickly on the glance of a label. Don't dismiss Tavern 5; if you put your glasses on, the logo on the web site has a tagline of "Neighborhood Restaurant".
Evelyn Weiss Francisco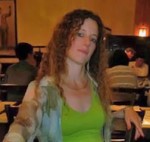 is a Foodie and blogger from the Garden State. Her Blog, "Dishing on Dining", has been running continuously since January of 2012. By day, Evelyn is a busy account executive with a Public Relations firm, by night, a writer with a passion for all things food related.