On a Sunday in the winter, I especially love my coffee, but it cries for companionship. Unless you're crazy enough to play tennis outdoors in 33-degree weather, like me, then aside from skiing and ice skating a larger portion of your days off are probably spent indoors, either your home or an eating establishment or a museum or the like.
Having European parents and a baker in the family, I've adopted the desire and tradition of Sunday kaffeklatsch – a gathering over coffee and fine dessert, usually home baked. Not everyone has a baker in the family and is afforded European-style, not overly sweet, desserts. Many New Jerseyans run to the local bakery, or nowadays to their local super-supermarkets and pick up cookies or donuts with a rainbow of dye or a spongy cake with hardened buttercream and cups of white sugar.
Aren't there times when you want to get out of the house and sit in a fine pastry shop and enjoy a nice fresh roast or a selection of tea (other than black)? Where in New Jersey does one go to actually sit in a bakery? The concept has eluded me for some time. There are good bakeries, such as B&W in Hackensack, Patisserie St Michel in Teaneck, Gencarelli's in Bloomfield, and Sorrento Bakery in East Hanover, among many others, but I feel like they want you to come in, take your little box and get out – next! I don't want to eat it in my car, and I want it now. There used to be a pastry shop in Dumont, La Petite Patissserie, that had three or four small round tables and chairs. They would brew a nice cup of coffee and serve you your pastry of choice, but they went the way of selling wholesale some years ago: back to eating pastries in the car.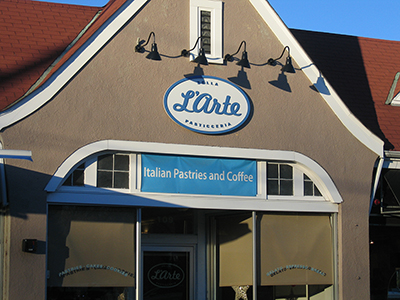 I recently discovered, however, L'arte della Pasticceria in Ramsey, "a stylish and contemporary pastry shop and café, serving a wide range of Italian-inspired sweet and savory pastries, using only the freshest and best natural ingredients" according to its web site. On Main Street, it's a nice walkable area. In speaking with our server, I learned that Owner/Chef Vicki has an impressive resume, having been Bobby Flay's pastry chef. Her creations are not excessively comprised of sugar. There is a multitude of offerings of coffees and teas as well. Yes, there are places in New Jersey to have kaffeklatsch, where the desserts and coffee are made freshly in house. And at L'arte, you can watch them performing their craft from outside, since the space next door is entirely the kitchen with a glass front to view.
Evelyn Weiss Francisco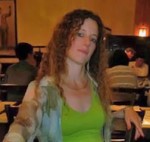 is a Foodie and blogger from the Garden State. Her Blog, "Dishing on Dining", has been running continuously since January of 2012. By day, Evelyn is a busy account executive with a Public Relations firm, by night, a writer with a passion for all things food related.