This month's article will focus less on history and more on the eerier side of relic hunting. Since Halloween has just passed us (but actually was engulfing me while I wrote this) I think it's a good opportunity to tell some stories about some of my creepier finds.
I've gained permission to metal detect on a few different church grounds, with cemeteries either nearby or on the same property as the church. And don't worry – this is not an article about grave digging! I do not, will not, nor do I condone relic hunting or disturbing in any way land that is a burial ground. But the surrounding areas? Sure! So long as I have permission from the land owners.
A church in my hometown was built in 1793. It has a cemetery on the grounds dating back to that era, and is still used for new burials. In fact, my grandparents are both buried in the cemetery. I was thrilled when I was granted permission to detect on the front lawn since it's a very old church, and I was hoping to find some colonial- and Civil War-era artifacts. And I did!
The tombstones border two sides of the lawn, so while the property itself is beautiful, there was always an unsettling feeling as I searched for things lost long, long ago. Most times I was alone, and when behind the headphones of a metal detector, you don't always hear what's going on around you, which added to the uneasiness I sometimes felt.
It's easy to get the heebie jeebies when walking around the cemetery itself (as I sometimes do when visiting my grandparents' graves). Most of the tombstones are old! So old that some are worn so badly that you can't read the names. Sadly, the original records from the church have been lost, so any weathered tombstones mark the final resting spot of an unknown person. Some tombstones are in risk of being buried forever, but efforts are always made to save them.
One time while walking around, trying to soak up local history and appreciate my area's forefathers, I had this strong feeling that I was being observed. No one was around me. It was very quiet. Suddenly I saw a face – in a very unlikely place! The tree behind me, who I now refer to as, The Old Man in the Tree, stood statuesque as he kept guard of the graveyard.
Back to the lawn… Another item I found at this church really scared the group of young kids who were watching me intently. To them, it looked like a petrified monkey claw! But in reality, it's a hand-forged garden tool, probably dating back to the early- to mid-1800s. But it certainly looks like something that could be seen in a horror flick, and I can only imagine the scary music that could accompany the vision of it stalking a victim! The kids scattered away after they sawy it and didn't come back for about a half hour.
When searching another church property in a different town, I was near near the rectory and found a silver colored crucifix. I had no idea what it was, but the priest and two nuns agreed that it was coffin adornment. What are the odds? Two churches, two remnants of a coffin! These aren't exactly the types of things I like to find. Yes, just about everything I find belong to someone who is long gone, but I'm not comforted when finding part of their eternal resting space.
My most interesting story is about a button my friend James found when detecting a property that was built in 1802. After a long day of metal detecting, he was cleaning his finds the next day and realized that he had found a Civil War general services button. I emailed the home owner because she had told me a relative of hers was in the Civil War, so I thought she'd be interested. She responded with a very interesting story! She told me that just that night, she woke up in the wee hours as something stirred. She saw a figure wearing a Civil War uniform. And just like that – vanished! Of course, something like that is pretty unsettling. James and I decided it seemed like this other-worldly visit was somehow connected to the button James found. So we returned it back to the homeowner believing that it's meant to stay on the property.
When relic hunting, on properties old or modern, you really never know what you're going to unearth. But whatever we find, it once belonged to someone. We appreciate that and value all relics found, whether they're worth actual money or not. To us, these items are treasures, and we're happy to save them from their burial grounds so they can be preserved and inspire others to learn about history.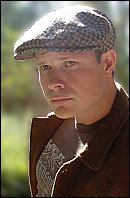 Grant Hansen is an avid relic hunter, and focuses most of his efforts in his home state of New Jersey. He and his detecting partner James run http://relic-hunters.com and work with local and national historical societies and museums to preserve lost history. Some of the best finds Grant has made is the people he's met and befriended along the way. It's the kindness and generosity of property owners that makes it possible for him to pursue his passion. These articles are dedicated to these special people.