Some people like to see the complete process of the meat they are ingesting: from the hunt to the butchering to the cooking and the plating. I, for one, would enjoy watching from the cooking stage forward. In New Jersey, however, we have the "rare" opportunity of witnessing the filleting process of a freshly caught giant blue fin tuna. The event occurs only once a year and is dubbed the Blue Fin Tuna Filleting Festival. It is held annually at Mitsuwa Marketplace, a Japanese food market on River Road in Edgewater, NJ.
The fish brought in to the store is generally around 500 lbs. This year, the carving event is held on Saturday, Nov. 12, at 11 a.m. and 2 p.m. and on Sunday, Nov. 1 at noon. Sushi chefs will reduce the 400- to 600-pound whole tunas into piles of sashimi and sushi that will be for sale. I recommend bringing two things: high heels to see above the crowd and plenty of cash if you plan on bringing a taste of this monster home. The Japanese are willing to pay for the fatty pink meat.
Mitsuwa boasts that this once-a-year opportunity is a rare occasion, even in Japan. If you are interested in the art and preparation of sashimi and sushi, or maybe just interested in seeing a tuna fish that large, then it's worth taking a peek at this event because a peek is all you may get. Usually the fisherman is present, describing the when-where-how the tuna was caught and further discussing the master's technique as he makes his way through its anatomy. The pieces fall off the blade and onto Styrofoam boards and are wrapped and priced for immediate sale to the many hands grabbing forward for the best cuts.
Evelyn Weiss Francisco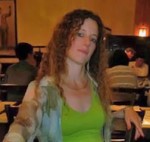 is a Foodie and blogger from the Garden State. Her Blog, "Dishing on Dining", has been running continuously since January of 2012. By day, Evelyn is a busy account executive with a Public Relations firm, by night, a writer with a passion for all things food related.