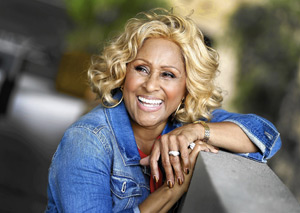 I close my eyes and I can hear her. Darlene Love singing the opening refrains of "Baby Please Come Home for Christmas." I get chills every time.
It is both joyous and heartbreaking at the same time. When she sings, the emotions that pour out of her voice cut right to the core of anyone who has loved or lost during the very emotional holiday season. It is the voice of Love.
What? You're not familiar with Darlene Love? Well, just follow along…
Since the early sixties, as part of Phil Spector's wall of sound hit factory,
this great lady has done it all, from major motion pictures like the highly successful Lethal Weapon series to Broadway hits like Hairspray and Grease. She even starred as herself in Leader Of The Pack, credited as Broadway's first 'jukebox musical.' Darlene has appeared on numerous television programs, running the gamut from her weekly appearances on Shindig to a recent guest spot on the PBS special entitled Women Who Rock. An autobiographical film is currently on the drawing board with a development deal from Oprah Winfrey based on the book "My Name is Love", written by Darlene.
Darlene Love received her industry's highest award when Better Midler, a great fan of her work, inducted her into the Rock and Roll Hall of Fame in 2011. During the celebration, the two ladies enjoyed performing He's A Rebel together. As part of the festivities, Darlene also sang He's A Fine, Fine Boy backed by another distinguished fan, Bruce Springsteen.
Darlene Love celebrates the holidays in an engaging performance of her classics and holiday hits Christmas (Baby Please Come Home) and All Alone on Christmas, from Home Alone 2.  The show is rounded out with a full band and singers.
Love continues to captivate audiences worldwide with her warm, gracious stage presence and superb performances. Rolling Stone Magazine has proclaimed Darlene Love to be "one of the greatest singers of all time" and that certainly rings true, but perhaps Paul Shaffer says it even more concisely: "Darlene Love is Rock N' Roll!"
The Newton Theatre
Sunday, November 27
8:00 PM
www.thenewtontheatre.com