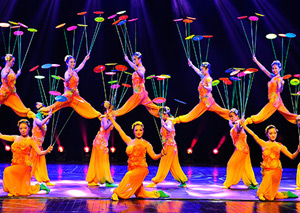 I am continually astounded by the creative minds at the State Theatre of New Jersey in New Brunswick. The array of entertainment choices available to the average New Jerseyan is mind-boggling. Theatre, music, family fare and film are always on tap at this redesigned and refurbished gem located in the center of the state. The month of November continues this tradition with the Shanghai Acrobats of the Republic of China.
About the company:
Founded in 1959, the Shanghai Acrobats of the People's Republic of China is one of China's official acrobatic troupes, owned and supported by the state. After more than 50 years, it has become one of the most influential and competitive acrobatic companies in China, winning many awards at acrobatic and circus competitions at home and abroad. Touring worldwide since the 1980s, the company has performed in more than 30 countries, including the U.S., Germany, Spain, Britain, Mexico, the Netherlands, Switzerland, Japan, Turkey, Canada, Indonesia, Fiji, Cameroon, Guinea, and Nigeria. The troupe has helped introduce Chinese acrobatic and circus art to a worldwide audience, serving as cultural ambassadors wherever they have traveled.
The Shanghai Acrobats have toured with Ringling Bros. and Barnum & Bailey Circus as well as Stardust's World Christmas Circuses in Germany and the Netherlands. They performed in Cirque du Soleil's Mystère in Las Vegas, and for seven years at the Rixos Hotel in Turkey. Their show, ERA, played for two years in Xinyang, one of China's tourist cities. In 2012, the company toured Canada with the Kitchener-Waterloo Symphony's 52 pieces orchestra. The Shanghai Acrobats of the People's Republic of China's 2016 coast-to-coast tour of North America features the debut of their latest production, Shanghai Nights.
You will see Ballet on Shoulders, Straw Hats Play, Hoop Diving, Girls Foot Juggling with Balls, Jar Balancing on Head, Dance and Gymnastics. These athletes offer both strength and grace and when the costuming and theme music are added it amounts to a presentation that will amaze anyone at any age. Recommended for families and school groups, this is no ordinary excursion.
Friday, November 18
8:00PM
Saturday, November 19
2:00PM & 8:00PM
www.statetheatrenj.org