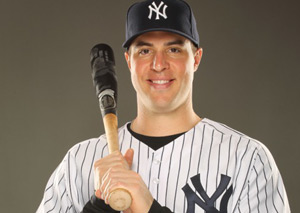 There comes a time at the intersection of October and November when the baseball season comes to an end and the holiday season kicks in. Of course for fans in New Jersey, our seasons ended a while ago. So we put away the gloves, stop monitoring the daily box scores and start to plan holiday menus and gift shopping. But what if we could stretch the season for another week or so. Yes, we have a plan for that too.
Stonecrest Community Church, located in Warren, NJ, will host an outdoor Family Fun Day on November 5th from 10am – 2pm on the Church grounds featuring NY Yankee, Mark Teixeira as guest speaker.
The Family Fun Day will include food vendors, an inflatable obstacle course, raffle baskets and competitive games for various age groups. All game winners will receive a Mark Teixeira autographed baseball along with the opportunity to take a photo with him. All little leaguers in uniform will have access to a special seating area directly in front of the stage during Mark Teixeira's presentation and the first 100 little leaguers in full uniform will receive an autographed 8"x10" photo of Mark Teixeira. Those attending are encouraged to bring their own lawn chairs for seating. In the event of rain, the first 500 tickets will be guaranteed indoor seating.
There is also a VIP Sponsor Reception from 10am-12:30PM. The first 25 paid sponsors at $150 will receive access to this exclusive reception to enjoy hors d'oeuvres and a personal meet and greet with Mark Teixeira.
This is an excellent opportunity to say a fond farewell to one of the most beloved of Yankee players as Mark is retiring from the game. There are many ballplayers out there who are revered and lauded for their on-field accomplishments but very few who give of their time to local communities.
Mr. Teixeira is one of those rare finds in a sport that values home runs over hometowns. The Stonecrest Community Church is the perfect venue for a day like this. Above all they value the people that they serve in the town of Warren. Pray for sunshine. This is one event we don't want to see a rain delay.
Saturday, November 5
10:00AM – 2:00PM
General admission is free and may be reserved by going to www.stonecrestchurch.com/family-fun.