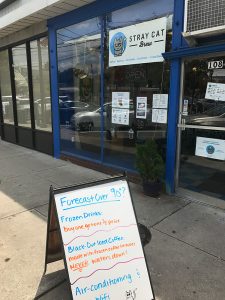 The hot weather shouldn't stop anyone from drinking coffee. Coffee is like blood in your veins – it should be in your body in some capacity at all times for survival.  I find myself sometimes even thinking about when and where I will be getting my next cup of coffee. Don't get me wrong, though. I won't settle for not-so-good java just to fulfill my craving for that percolated bean. I don't get the Java Jitters, either (as portrayed by this NJ native https://youtu.be/S1ksjZYidVY). And don't get your caffeine nerves up when I say I don't care for the taste of Starbucks. It's bitter to my palette.
I blame this love/addiction on my European mother, who mixed warm coffee with the milk in my bottle…okay, really I was about nine years old when I was given permission to have Sunday coffee with her, but mine was a miniature cup diluted by 50 percent milk. It was a gradual dependence/desire mix.
Recently, I was picking up a roasted chicken from Uncle Paulie's in Maywood (written about before in this column). It was about 86 degrees outside, but I needed the taste of a latte and it needed to be in a cold form. Coffee ice cream from Uncle Louie G's next door would not suffice. I need the strength of the actual roasted bean…..I digress for a moment: realizing only as I write this that there are two (unrelated) Uncles next to each other on West Pleasant Avenue.  Anyhow, I stepped outside and across the street Stray Cat Brew catches my eye with its locally roasted coffee, gourmet teas and frozen drinks. The A-frame sign resolved a problem that many coffee connoisseurs have with ice coffee – it gets watered down. Here, the Black-Out Iced Coffee is made with frozen coffee ice cubes!  The former Moon Doggie Café, has gone from dog to cat ironically, but it leaves Maywood with a place to enjoy a non-commercial cup.
Try your local, locally roasted coffee café – that's a mouthful but one that will be cooled down with cool cup of aromatic java.
Evelyn Weiss Francisco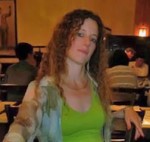 is a Foodie and blogger from the Garden State. Her Blog, "Dishing on Dining", has been running continuously since January of 2012. By day, Evelyn is a busy account executive with a Public Relations firm, by night, a writer with a passion for all things food related.