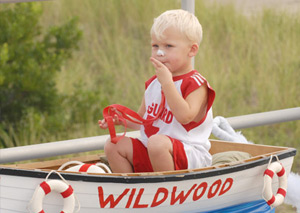 If you were a newborn baby in the very first Wildwood Baby Parade, you would be 108 years old now and definitely on a Smuckers jar.
That's how long this classic celebration of cute kids has been around. In 1909, someone in the lovely and vibrant shore town of Wildwood, must have looked in on his or her little bambino in their crib and said something to the effect of, "Well, isn't he/she the most darling baby ever?" To which a neighbor might have replied, "I don't know. The Johnson's have a little boy that is as adorable as a June bug on a July night." (honestly, I have no idea what a 1909 reference analogy might be). A challenge had been thrown down, and accepted. The result was the inaugural Baby Parade and Competition, for there are winners (but no losers; these are children for God's sake!). Winners in several categories that sometimes don't even have anything to do with the actual babies! I love this. It's so random.
Let's take a look at what will occur on August 2nd along the boardwalk in Wildwood, NJ…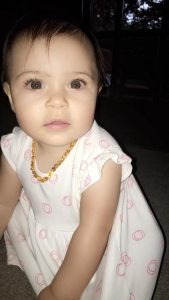 Registration at Wildwoods Convention Center from 4:30 p.m. – 5:15 p.m. No entries accepted after 5:30 p.m. Judging occurs while participants are lined up in the circle in front of the Convention Center. Line-up begins at 5:30 p.m., parade steps off at 6 p.m. SHARP and proceeds south on the Wildwoods Boardwalk to the Wildwoods sign at Rio Grande Avenue where group photos will be taken for each category. The parade then circles back to head north to the Convention Center, down the Burk Avenue ramp, across Ocean Avenue and in to Fox Park at which time all participants will be announced in a promenade. Participants will have the opportunity to meet mascots, play games, enjoy bounce house/slides as anticipation grows while Baby Parade Winners are announced. FREE to register. PAID parking at the convention center's daily rate. Please take note when making your decision for participation: 1. CUTEST BABY BOY (under 12 months, undecorated stroller) – Judged on Baby's Face; not what baby is wearing. 2. CUTEST BABY GIRL (under 12 months, undecorated stroller) – Judged on baby's face; not what baby is wearing. 3. DECORATED BABY CARRIAGE (1 or 2 children, up to 2 years old) – Judged on carriage and child's presentation. 4. BEST WALKING THEMED GROUP (3 or more children, one child must be under 5 years old) – Judged on theme. 5. FANCY CHILDREN (walking in themed costumes) – Judged on overall presentation. 6. BEST DRESSED (walking) – Judged on "Sunday Best" outfit. 7. DECORATED ON WHEELS (i.e. platform on wheels, wagon, etc. 1 or 2 children) – Judged on theme. 8. GROUP DECORATED ON WHEELS (i.e. platform on wheels, wagon, etc. 3 or more children/adults) – Judged on theme.
So there you have it. Not only the babies, but also the carriages. How cute is that!? Personally as a grandfather of a beautiful baby girl, I think they should just mail her the prize now and get it over with. But that's me, a grandfather talking. Bring your babies, bring your smartphone cameras, because there will be smiles for miles for many years to come.
Wednesday August 2
Wildwoods Convention Center
www.wildwoodsnj.com