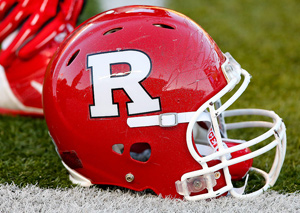 To say fortunes have changed for the Scarlet Knights football program in the past few years would be an understatement. There was the departure of beloved and successful coach Greg Schiano, the unfortunate off-field escapades of some team members and the most impactful change of all, joining the Big 10, a conference that has teams competing for the national championship year after year featuring some of the top schoolboy talent that just longs to play on national TV in the hopes that they will be catapulted to the ranks of the NFL someday. This would seem to be a very tall order for a university that is by comparison small scale and lesser known.
It is no secret that the top high school recruits in the state often leave New Jersey for the lure of Notre Dame, Ohio State, Michigan and Florida State. And make no mistake, some of the absolute best talent in the football universe is home-grown right here in the Garden State. As history will have it, the first college game played was right here in 1869 and in that game Rutgers defeated Princeton 6-4 (I have no idea! What, two field goals and two safeties?) In what might be considered a beginning to college football rivalries, immediately after Rutgers won this game, Princeton's players were literally run out of town by the winning Rutgers students. The Princeton students reportedly jumped in their carriages and quickly made the 20-mile trip back to their campus
So how does a program recapture the glory and the passion that aroused so many for a century and a half?
Start by bringing in a coach who has successfully guided programs as a defensive coordinator and coach at Ohio State, Wisconsin, Arkansas and Iowa State. His name is Chris Ash and it is name that we are hoping to hear for many seasons to come.
Ash and the Scarlet Knights have their work cut out for them. After an 8-5 season in 2014—the team's first year in the highly competitive Big Ten Conference (Ohio State, Washington, Michigan, Penn State…), Rutgers sank to 4-8 in 2015. To turn things around, Ash—a man who considers it fun to arrive at work at 5 am—knows he must create a culture of success. "Any coach I hire at Rutgers has to have academics at the top of the list," athletic director Patrick Hobbs says. "[Ash] is as excited about gains the student athletes make in the classroom as he is with what they do in the weight room."
The new coach has developed a sales pitch designed to entice top prospects in New Jersey and beyond. "You don't have to leave the state anymore to play big-time football," Ash says.
The season begins on Saturday, Sept 3 at Washington (TV – PAC 12 Network).
The Scarlet Knights' home opener against Howard is Sept. 10 and Rutgers students who attend will have an opportunity to win a share of $100,000. If Rutgers football returns its opening kickoff for a touchdown against the Bison, 100 students will win $1,000 each in the contest presented by Autoland.
Sometimes its better to be lucky than good. Let's hope The Scarlet Knights have a little of both.