My Swiss mom allowed me to start drinking coffee at around the age of eight. Mind you, it was a mini coffee cup, and to this day she makes fun of the way I drink it, calling it "milk coffee". I'm not a hardcore addict – usually only two cups a day – but I love my coffee, even if it has to be decaf sometimes.
New Jersey has plenty of coffee chains with the obvious Starbucks and Dunkin' Donuts. Admittedly, I'm on the DD side of that debate but was embarrassed when we went to Italy a few years ago. We were told that there are no Dunkin' Donuts or Starbucks in Italy (I certainly wasn't looking for either) because they refer to the coffee Americans drink as "dirty water".
Sometimes, though, I want coffee to be a social event. I want it to be reminiscent of the European kaffeeklatsch when friends gather and chat face-to-face over a fresh-brewed cup of coffee. I don't want to be slammed with green logos or pink and orange-branded décor. A home feel is desired, and New Jersey is picking up on this with a number of fresh coffee roasters popping up.

One of the latest is in Edgewater. It was the day after Snowstorm Jonas rolled in, and I was on my way to play a couple hours of indoor tennis, but I hadn't had my morning coffee yet. How convenient it was in the same parking lot to find Kuppi Coffee. The interior feels very modern and the smell of their fresh- roasted George Howell beans surround your senses. The space is long, and the back wall is floor-to-ceiling window with a spectacular view of Manhattan, right on the Hudson. The only minor flaw is that you are paying for the view. The accommodating brunch items are quite expensive. You can get away with a deliciously aromatic cup of regular coffee for under $3.00. I headed straight for the rear of the store and sat in a wood bleacher-type, trendy style of seating area since I was alone and enjoyed my hot cup while gazing outside.
Moon Doggie in Maywood proclaims to be Bergen County's Premier Artisan Coffee Roasters. According to their web site, they only use Arabica Specialty grade, defining it as the best. This place has been around for a while, so all these superlatives must be valid. The name, well, that's questionable after finding the Urban Dictionary's definition, but maybe that's not what they meant. The furniture does have a 50s air about it. Moon Doggie is in a quaint town with a bustling central business district of shops and eateries.
Other roasters to check out are:
The Coffee Mill Roasters in Millburn
American Bulldog Coffee Roasters in Ridgewood
City of Saints Coffee Roasters in Hoboken
Just don't start jittering with too much java.
Evelyn Weiss Francisco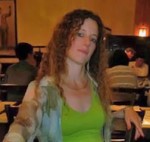 is a Foodie and blogger from the Garden State. Her Blog, "Dishing on Dining", has been running continuously since January of 2012. By day, Evelyn is a busy account executive with a Public Relations firm, by night, a writer with a passion for all things food related.