Every so often we get to take what my wife likes to call "Drives to Nowhere." That's where you get in the car, fill up the tank with gas (cheap enough these days to cruise from Vernon to Vineland for $8.65) and turn off the GPS. We grab a bottle of water and perhaps a snack, throw a sweater or Rutgers sweatshirt in the backseat, and hit the road with no destination in mind. We just go. Along the way we have seen beaches, mountains, shopping centers and farms with more cows than I thought could possibly live this close to the New York metropolitan area. Our latest discovery kept us entertained, fed and well clothed from morning until long after nightfall. The town we "discovered" on our most recent adventure was a lovely little hamlet along the Delaware River called Lambertville. Here's what we found, and what you can expect to eNJoy when your car takes you there…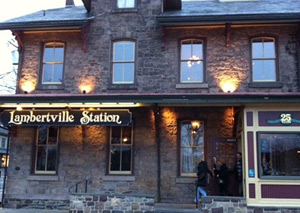 Lambertville—with a population under 4,000—remains a place that residents and visitors enjoy in equal measure. Walk down Bridge Street on a weekday, and locals smile and say hello. Stop at any of its shops, antique stores, art galleries and cafés—nary a chain among them—and witness proprietors greeting customers by name. Take a walking tour (conducted by the historical society) or just wander on your own to enjoy the town's lovingly preserved Victorian homes and Federal-era town houses.
Shop Shop Shop! Antiques shops outnumber even the coffee shops. The People's Store alone houses 40 dealers inside a landmark building, while America Antiques & Design touts progressive decorative arts. Art galleries and boutiques specializing in new and vintage clothing also abound. Distinctive home furnishings and accessories are the domain of Blue Raccoon and the Urban Archaeologist.
Who's hungry? Lambertville is a hotbed of bistros, among them Brian's, d'floret, Hamilton's Grill Room and Manon. Lambertville Station is set in a restored 19th-century train station by the canal. Full Moon is a daytime go-to that only hosts dinner on the night of the full moon. Whoa! Newcomer Liberty Hall Pizza dishes up authentic Neapolitan pies. Middle Eastern fare is the specialty at Marhaba, and El Tule draws with both Mexican and Peruvian dishes. Lambertville Trading Company and Buck's Ice Cream & Espresso Bar are standouts among a wealth of coffee and ice cream shops.
Special secrets. For overnighters, Lambertville House has an historic boutique-hotel vibe, while the Inn at Lambertville Station's recently renovated rooms come with breathtaking river views. January's frigid temps are relieved by the Lambertville-New Hope Winter Festival, which features a chili cook-off, ice sculptures, gallery crawl and concert. Shad Fest, Lambertville's signature weekend of food and family fun, takes place in late April. Just south of downtown, the Golden Nugget Antique & Flea Market runs Wednesdays and weekends.
One of my favorite places to sit and sip a Bloody Mary or grab a meal, perhaps stay overnight is the charming White Swan Hotel…