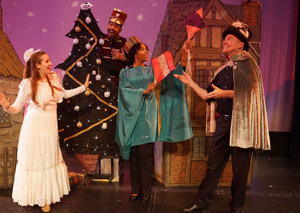 "Pushcart Players is an award-winning professional touring theatre company specializing in arts in education for children. A nonprofit organization, Pushcart Players is dedicated to bringing the best of the performing arts and arts in education to kids and families in schools and theaters in communities throughout NJ."
Remember those boring assemblies we had in elementary school, where some tweedy-looking academic pointed to charts and graphs and generally bored children to tears with tales of earthworms, climate control and the four food groups? New Jersey has come a long way baby! Imagine if you will, a group of performers in full costume, with travelling sets and staging, all right there in your own school system.
That is the foundation of New Jersey's premiere touring theatre group, a company of professionals whose fame has spread beyond our borders to states all across the nation. For young and family audiences there is simply none better.
"Pushcart Programs are designed to amplify the theatre experience and increase literacy in the arts:"
* Arts and Education Workshops
* Field Trips to Performing Arts Venues
* Fully mounted, costumed and orchestrated productions in your venue or school
* Question/Answer/Assessment Discussion with cast following performance
* Study guides and resource lists for teachers and parents
* Long term arts-in-education programs culminating in student performances.
I have to admit that my first school performance came in the fourth grade of Regina Pacis School in Brooklyn. I played a boy who was on the receiving end of a miracle. The real miracle was that my stage fright didn't flat out blind me.
Now kids learn all about theatre by doing it all! Condensed versions of familiar Broadway shows are cast, rehearsed, designed, and presented under the direction, guidance and support of Pushcart staff assisted by parents and teachers.  Dazzling performances at the end of 12 to 16 weeks make this an extraordinary school-wide and community activity! And not only that… Theatre games, storytelling and improvisation help students develop self-awareness and confidence in dramatic play and self-expression. Many professionals in all walks of life and career paths are terrified to get up and present before a group. A program of Creative Drama Workshops gives children both the confidence to take charge of a room, and the skills necessary to achieve the goal, whether it is to entertain or inform. It is invaluable training that will go a long way to further anyone's career.
A few of the shows currently in production are classics like Little Red Riding Hood,
The Emperor's New Clothes, The Princess and the Pea and a very special that goes
right to the heart of the Garden State…
"Celebrating New Jersey" is a timely folk musical that coincides with New Jersey's 350th Anniversary. It reaches across more than three centuries, linking young viewers to the past while breathing new life into a most creative period in the Garden State's history. From the arrival of the first settlers to the American Revolution, from the writing of the Constitution to the significant participation in the Civil War, from Thomas Edison's life-changing work in West Orange to New Jersey's pivotal role in industry. "Celebrating New Jersey" is a spirited and stylish exploration of innovation and diversity.
For more information on how to bring a theatre life to your school, visit them at: