I was a Teenage Gym Rat. What I learned from Hans and Franz was that I had to PUMP and LIFT and GRUNT and GROAN. Mostly, I discovered I had to SWEAT. Alongside dozens of superior physical specimens who looked at me like I was Captain America before the upgrade, casting sideways glances as I attempted to bench press the total combined weight of two pieces of salami, I was never ever at ease in that environment and subsequently surrendered to the pizza and the beer, another sad but true American Physical Fitness Casualty. What would Arnold say?
You see the TV commercials with the "I pick things up then I put them down" mentality that has been the stalwart way of thinking when it comes to gyms, or as they became known in the 80's – health clubs. Well folks, things in New Jersey have certainly changed and not just because men and women have discovered Spanx.
Try these on for size – Zumba and Latin Dances, Meditative Bicycling, a cross fit venue with the word guerrilla in it, beachfront yoga, and oh yeah, working out on a stripper pole. Say what? New Jerseyans are staying fit with both a body and mind regimen that defies the imagination as well as gravity. They are called Boutique Gyms and they are doing a gangbuster business in cities and towns all across the state. This month we are going to highlight a cross section of these new exercise experiences. We promise there is something for everybody.
Ride+Reflect Bernardsville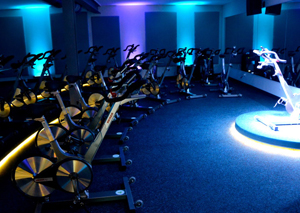 The brainchild of Juliet Patsalos-Fox, an English-born cancer survivor who now resides in Bernardsville, the goal was to create a place where you could "tone your body and tone your mind." In their 4000-square-foot space, there are 24 gleaming stationary bikes arranged amphitheatre-style in a state of the art studio that focuses on the music as much as the machine. The appeal is the intimacy and comfort zone that encourages support without the competition. Their à la carte menu of classes includes the 75-minute "combo ride plus yoga"—a spin class followed by yoga—as well as power vinyasa flow yoga and guided meditation.
www.ridereflect.com
Wellness on the Green
This is not your daddy's gym. Or your mommy's for that matter. This Morrisville fitness studio offers classes in Aerial Silks, Belly Dance and yes, Pole Dancing. The participants are mostly young professional women who eNJoy the invitation of something new, something challenging, and let's face it, something beautiful.
"This is just fun. It doesn't feel like exercise, which is something I could never do. I'm not one to exercise for the sake of exercising," says 25-year-old William Paterson University student and full-time bakery employee Rachel Howering after a recent introduction-to-pole-dancing class. I'm also pretty sure it helps after baking all those muffins.
www.wellnessonthegreen.com
Guerrilla Fitness
"When you're not trying to be everything to everyone, you can attract people who are passionate about doing something they love, and doing it with other people who are like-minded," says Michael Metzger, a co-owner of Guerrilla Fitness of Bound Brook, home to Cross Fit Chimney Rock. A feature of their high impact program is what they call WOD, short for Workout of the Day. You pair up with a partner and compliment each other with running, lifting, push-ups, etc. doing as many reps as possible in 30 minutes. I'm tired just thinking about it. But it works!
www.guerrillafitness.net
Cool Hot Yoga

Anti-gravitational yoga. "I never used to be a yoga person. I wanted to run and sweat and burn 700 calories at a time," says Haschek after a recent class in which she struck yoga poses in a green silk hammock suspended from the ceiling alongside six other barefoot women. Upbeat music played throughout the class, taught by studio owner Michelle Copland of Norwood, who ran students through a series of strengthening and toning moves in addition to stretching in the cocoon-like silks. Some moves were done upside-down. "To me this is a replacement for the chiropractor and getting a facial. It gives you a glow," says Haschek.
Copland says her studio is one of the few in New Jersey that offer anti-gravitational yoga. The nine hammocks are always in demand, but CoolHotYoga, which Copland opened in 1999, offers other workouts—"something for every mood and personality," she says—while still adhering to the boutique philosophy.
www.coolhotyoga.com
Jump Studio
Cause I'm all about that bass, 'bout that bass, no treble! The music is the motivating force in this supreme dance studio, where every dance under the sun (well maybe not the Lambada) doubles as an exhilarating exercise regimen. Kimberly Stoeckley of Philadelphia opened the 1,400-square-foot space two years ago because the Zumba class she was teaching in Pennsauken had gained a following big enough to convince her she should launch her own boutique. But instead of sticking with Zumba, she started teaching Plyo Dance and Plyo Latino, too. Plyo, the brand name of a type of boots with a bouncy apparatus on the sole that lets wearers jump as if they're on their own personal trampolines, are now Jump's best-attended classes. Stoeckly says, "Anyone can benefit. Studies have shown 20 minutes of jumping is the best exercise for cardiovascular disease. And it also gives you a natural high. There's a lot of endorphins involved."
www.jumpstudionj.com