The Potters' Guild of New Jersey will host its Annual Spring Pottery Festival and sale of functional and sculptural ceramics at the Community Presbyterian Church, at 1459 Deer Path in Mountainside (corner of Deer Path and Meeting House Lane) on Saturday, April 21 from 11am to 5pm and Sunday, April 22 from 12pm to 5pm.  Admission is free and credit cards are accepted for all sales.  This increasingly popular event draws hundreds of customers from New Jersey and the tri-state area.
Montville NJ resident, Marie Signorile is one of 35 PGNJ potters exhibiting and selling their work at the upcoming show.  For as long as Marie can remember she has been drawn to art, particularly sculptural forms. After receiving a BFA in Graphics Arts, Marie worked for over 30 years as a Creative Director and Graphics Designer in several New York advertising agencies. And, while also raising a family, she continued to explore the joys of working
with clay. Her ad agency still keeps Marie busy, but now in addition to her own pottery, she is teaching the craft to students at the New Jersey Center for Visual Arts in Summit.  "For me pottery is an ongoing process with something new to learn every time I touch clay.  I'm particularly attracted to the spontaneity of Raku firings which frequently change any pre-conceived expectations I may have".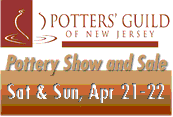 Available for sale will be a fabulous selection of vases, wall pieces, pitchers, teapots, platters, casseroles, raku and pit-fired vessels in varying colors and styles, and one-of-a-kind sculptures and decorative objects of art. The show is the perfect place to find unique gifts or a special architectural item.
For directions to the sale, visit the PGNJ website at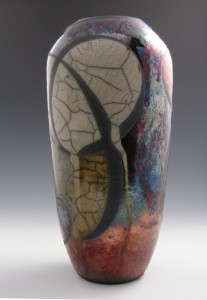 http://www.pottersguildnj.org/index.aspx or call Judy Musicant at 908-233-1633.