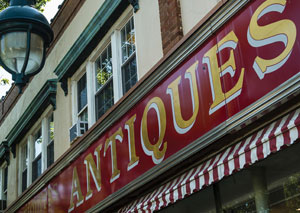 On a recent Saturday afternoon, I was browsing through the antique shops that line this little beach town and in a rather large shop called the Antique Emporium I spotted Angela Lansbury. Sixty bucks. Which I thought was very reasonable.
Let's face it. Point Pleasant Beach is more likely known for its beachfront attractions and amusements, like Jenkinson's, Martell's, Jersey Mike's Subs, the rides, the surf, the sausage and pepper sandwiches and anything that comes out of Joe Leone's Italian Specialty Store. But there is a not-so-well-kept secret that coexists alongside the Himalaya and the Crazy Bus. Point Beach is a shopping Mecca for those who are in the market for fine antiques and collectables. No, it is not necessary to drive up to Connecticut or out to Lancaster County, Pennsylvania to find that precious item that you've been looking for in online catalogues for months. It could be right here under your nose (if you can your nose past the smell of the sausage and peppers that is).
Those who shop for antiques are a rare breed – part Magellan, part Ponce de Leon, part Indiana Jones. They are educated, discriminating and shrewd. They know what they want and they know where to look for treasure. And quite often, they find it at one of the numerous shops that dot the main roads and side streets of this town. Vintage clothing, art, crystal and china, furniture, knick knacks and Lionel trains can all be found within a few square miles of shopping paradise.
Here are a few of the many stores that you can visit… The Antique Emporium, Peck's Primatives, Déjà vu Galleria, Pomegranate, The Train Room, Wildfire Antiques, Point Pleasant Beach Rare Coins, Pleasant Times, Clock and Antique Shop and Jessica's Antiques. Whether you're in the market for world renown items and artifacts or local memorabilia, you can find it here. Thoughtful Treasures is one of my favorite places to while away an afternoon. Built in 1906, it once housed the general store and post office. It's tin ceilings, hardwood floors, crank gramophones, antique lighting and furnishings make it the kind of place you would expect to see in a movie. It's owners search the world to find the treasures that line the shelves. Bruce is the "hunter," travelling all over the globe while his wife Eloise runs the shop and handles the day to day operations. It is a partnership that has served them and their customers well over the years.