If you even just know me by name, you probably know that all retail desserts are measured against the quality of my mother's desserts. Most don't come close: too sweet, too many artificial ingredients, not baked enough, etc.  As a result, I am extremely selective – some label it snobbish – as to if and where I eat dessert elsewhere.
Most of you who do know me, know I've found the perfect competitor in Rocco's, New York City, but that's across the big river. I've written about two worthy contenders in New Jersey:  one in Ramsey, L'Arte , where I even dared to bring my mother once, and the other in Teterboro, Palermo's. So when I saw a nearly full-page newspaper article (yes, I look at an actual printed newspaper), on a four-month-old French pastry establishment in Westwood, NJ, my eyes and mouth perked up. A panic rush of self-addressed questions comes over me – why didn't I know about this, could it be as good as the pictures look, how soon can I try it? The first answer I don't know. I was four months behind on this intel. Shame on me. The third answer was …this evening! And that would provide the second answer: yes!






Open until 10 p.m., which excites me by fitting into my late night schedules, I dashed to Westwood at 9:30. The space is tucked sideways, perpendicular to a strip center with another Korean-owned eatery called Kimchi Smoke, which moved from Bergenfield. The bakery case in front appeared nearly wiped clean, but there were a few desserts left. The Korean man (owner/partner) explained that these rectangles were called pallets. They are like mini-pound cakes that are warmed up and sliced, but they're elaborate. One was pistachio, draped in white chocolate and another was milk chocolate and coffee with almonds. I ordered one of each to sit down and enjoy. The back room is the open kitchen with counter and stools, along with a handful of tables. I was given a menu for separate plated desserts, which were more elaborate. At this point of the night, I had not eaten dinner. Dessert was destined to be my dinner because that's what Ciel serves, and it's served very well! Chef (and co-owner with her spouse) Jane's resume sparkles in the pastry arts. Eleven Park Madison, Le Cirque and Nobu piqued my level of impression.  They both explained that they don't and won't serve savory dishes because they are doing only what they do best…..dessert! After all, you wouldn't expect the pitmaster at Kimchi Smoke to serve up crème brulee.
When asked for a recommendation off of the dessert lounge menu, the gentleman suggested the chocolate soufflé as a first timer (a familiar French word of course). It is baked to order in seven minutes and served with fresh made creme chantilly. The airiness and the gooey inside combined in a light and not-so-sweet marriage. That choice paired with the two "pallets" should've been a good enough first-visit tasting. But no; I had to notice the apple tarte tatin. I couldn't  pass it up. It was the most beautiful looking of the desserts I had, but also the smallest portion.  Here, Chef Jane's artistic prowess was exhibited best. The "tarte"  looked like a large, square caramel filled with pieces of fresh apple. It was decorated with thin, dried apple slices, dabs of meringue and radish micro greens.
Remember, French pastries such as these are meant to be tasted meticulously and slowly with small bites because the portions are not large. The textures are meant to touch every side of your mouth. In fact, the tasting of such desserts, rather than shoveling, is celebrated with a distinctive offering….a dessert tasting menu experience. Ciel offers a five-course dessert tasting that she serves at the counter. The unique experience with her personal explanations takes about 1.5 hours. There's also a three-course version that would take about 45 minutes. Reservations for a tasting experience is required at least 48 hours in advance. The tasting menu option truly brings the quality and New York food experience across that river and into this Bergen County town that's filling up as a foodie destination.
She is quoted in The Record: "I barely use sugar. Fruits — raspberries, mangoes, cherries — have plenty of sweet in them. I don't use anything that isn't good for your body." Her partner told me he goes to the market every morning to select the freshest fruits.
Dessert you can feel good about consuming! She even offers some that are vegan and gluten free, so there's no excuse for anyone not to try her creations.
Evelyn Weiss Francisco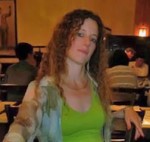 is a Foodie and blogger from the Garden State. Her Blog, "Dishing on Dining", has been running continuously since January of 2012. By day, Evelyn is a busy account executive with a Public Relations firm, by night, a writer with a passion for all things food related.