I often converse with a co-worker about New Jersey eating establishments, although, she loves food in a more Andrew Zimmern-daring kind of way. She had asked me if I ever ate Vietnamese food, and I told her that I was introduced to pho a few years ago and head to Pho 32 when I'm in the mood for it. She exclaimed, "That's where I go too!" As we continued to compare notes about what we order, I addressed the décor as well: The front fully windowed wall (facing Lemoine Ave. in Fort Lee) and the industrial cement floor provide a sleek, New York City modern ambiance. She broke into my description: "What about the seashells on the wall?" Now, unless I was totally hypnotized by the vapors from these hot noodle soups, I had never seen anything on the wall but an interesting illumination. We quickly realized, there's another location. She had been frequenting the Palisades Park Pho 32.
So what is pho? First, the pronunciation – I always say "fō", as in the word "phone". I felt a bit ignorant when a Chinese friend's wife said they were going to have pho, but it sounded like she was going to say the F-bomb, "fuh…", and I flashed on the scene in A Christmas Story when Ralphie curses. While it is one of the most commonly mispronounced food words, I still hesitate to say it correctly. It sounds silly to me, even though I pride myself on proper pronunciation.
The dish, pho, is a Vietnamese noodle soup with a beef broth base, rice noodles and several choices of meat such as beef brisket, tendon, chicken or even seafood. A side plate of bean sprouts, cilantro, lime wedge and jalapeno peppers accompanies the bowl for you to add in yourself as you choose. The bowls come medium and large. The medium (around $8) usually suffices if you select a couple appetizers, such us the fried Vietnamese egg roll, thinner than the Chinese one and meant to be dipped in a vinegar sauce, or the summer roll, which is cold shrimp, lettuce, vermicelli wrapped in rice paper and meant to be dipped in peanut sauce.
I cheat. There is a self-serve counter of dipping sauces that include: miso, lemon soy, cilantro soy, peanut, among others. It is meant for those ordering shabu shabu, which is actually of Japanese origin. There are special tables with heaters for these pots filled with broth. It is suggestive of broth fondue, where you cook your own items of corn, Chinese cabbage, meats, etc. in this bubbling broth and dip away in the sauces. But I take a spoonful of my brisket pho and noodles and dip into the different sauces for added flavor. The shabu shabu is more expensive but not equally more satisfying to me.
If you need to get your server's attention, there is a button on the table you can press, and it buzzes with your table number (like on a plane). It's too obnoxious for me. They have always been attentive enough.
There are other entrees to explore, but why, really? It's called Pho 32 (all their locations are, so I'm not sure what the 32 represents), so order the pho, and say it right!
Here's a fun, educational piece on pho. http://www.huffingtonpost.com/2014/11/04/pho_n_6084410.html
Evelyn Weiss Francisco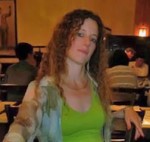 is a Foodie and blogger from the Garden State. Her Blog, "Dishing on Dining", has been running continuously since January of 2012. By day, Evelyn is a busy account executive with a Public Relations firm, by night, a writer with a passion for all things food related.