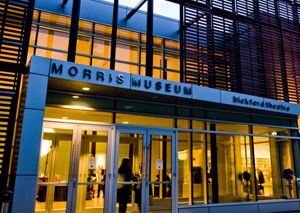 The fireworks of the 4th of July will come and go. The treks to the beach are a hit or miss of weather, traffic and crowded ice cream stands. It can get to be a bit frustrating whether you're five or thirty-five. Playdates become repetitious with one swing set or pool party after another. Before you know it, you're wishing school was in session all year round. Fret not mon pare.
The crack staff at eNJoynj.com leaves no stone unturned when it comes to entertaining both the young and the young at heart. Case in point: The Morris Museum and their never-ending string of exciting and educational things to do in the long and lost days of summer.
Here are but a few offerings to keep the child in all of us gleefully occupied…
All Aboard the Train! Day
Saturday, July 22,  11:00AM – 4:00PM
Get up close and personal with our ever-popular Mega Model Trains, and view antique pre and post war trains from the Morris Museum Collection. Learn about the different gauges of model trains, whistles, lights and signals, and about the different jobs on the railroad. View photos, models, and memorabilia to learn the history of the iconic "The Blue Comet", known as the seashore's finest train. Play dress up, and enjoy making fun train themed craft.
The Caboose Mystery
Saturday, July 22, 1:00PM
Join Steve the Magic Conductor in our Bickford Theatre for an exciting adventure filled with magic, storytelling, comedy, theater and audience participation, to search for clues, laugh, learn, explore, and solve the great train mystery.  Volunteers will be turned into Conductors in Training, meet Chestnut the Squirrel, and join in to help make the magic happen.
Music Tuesdays
Tuesdays, June 27, July 11, August 8, August 15, and August 22, 1:00-2:30PM
The Morris Museum is offering a wonderful musical experience this summer for children of all ages. Join us for a hands-on exploration of different musical instruments through "Touch the Music" with Claudia Lemmerz. These include:
Drums from around the world
Plucked string instruments
Bowed string instruments
Brass instruments
Science Wednesdays: BASF Kid's Lab
Wednesday, July 12, 1:00pm
Ages 6 – 12
The BASF Kid's Lab is a global program for children to raise their interest in chemistry through safe and engaging, hands-on experiments. A Kid's Lab session includes educator-led instruction, interactive lab experiments and takeaway items for each participant.
Designed for kids aged 6-12 and their caregivers, programs run 45-60 minutes in length and begin promptly at 1:00pm. Please plan to arrive by 12:45PM to check in. Each date will offer a different science theme. Have you taken a Kid's Lab in the past? Bring your goggles and apron!