In summer of 2015, I noticed a "farmer's market" open up in Bergenfield where a large clothing store had been. I put the term in quotes because there seems to be a trend of these predominantly fruit-and-vegetable stores opening up in Bergen County.  To me, they are mini supermarkets focusing on produce. I envision a farmer's market to be outdoors, such as the ones that pop up temporarily in the summer in Dumont, Fort Lee, Englewood, Paramus, Teaneck, Ramsey and many more.
There has been a small produce market for a few years now in Bergenfield called the New Bridge Farmers Market. That term seems to denote freshness, naturalness, which are easy-selling adjectives. But I was intrigued, nonetheless, what this new World's Farmers Market on Portland Ave. had over the existing one in town.  Within about a month of opening, however, it was closed already.  Now, it is open, under the name Nature's Farm Market and under a different owner.
I paid a visit quickly for fear it would disappear again. In addition to rows of fruits and vegetables, this new market has a deli counter and a butcher. From a distance, the meat looked fresh and appealing. As I came closer to the case, the appealing part turned to intriguing and a bit squeamish. But that's just me because I'm not an offal person. Feel free to deduct points off of my foodie score card. I'm okay with it. Maybe I just can't comprehend what a human would do with a cow's tongue. It seems illegal. It feels dirty, but I don't want to insult any cultures that revere it to be a delicacy. It must be tasty. I may have even had it once, sliced, at a Korean bbq restaurant in Palisades Park. I'm not telling. And in the case alongside the tongue are the other parts of the cow, neatly separated – the large heart, the feet, the intestines. This is an unusual place. Yes, you can get some of this at your local ShopRite, especially in Hispanic-populated neighborhoods, where I'm guessing a lot of nicely flavored broths are made with these components. I chose to move along to the fruits.
I was drawn to the inexpensive price of the avocados – Hass only 99 cents each. A package of red striated beans sat there, leaving me in wonder again.  This is the store you go to when you have that recipe with some untraditional ingredients such as these beans, sour oranges, prickly pears, dragon fruit and some unidentifiable tubers. Even the Red Delicious apples looked different..like they were on steroids for 79 cents/lb. It's fresh food for the adventurous; it's a delight for many Europeans, Asians and Africans wanting to cook dishes from "home". Let's see if offals become a new food craze in America as sushi did. Maybe we're missing out.  I'm not ready to sing: "Something tells me I'm into something good." Please explore the market for yourself though. If nothing else, you might find a less-expensive-than-anywhere can of wonderful Lavazza coffee or ….wait for it….ten different flavors of SPAM! I choose to remain a SPAM virgin but will grab some Lavazza or Fair Trade Melitta coffee and a sampling of fruits and veggies.
Evelyn Weiss Francisco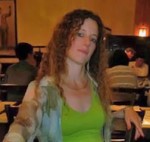 is a Foodie and blogger from the Garden State. Her Blog, "Dishing on Dining", has been running continuously since January of 2012. By day, Evelyn is a busy account executive with a Public Relations firm, by night, a writer with a passion for all things food related.