I couldn't even guess how many restaurants in New Jersey classify themselves as Italian. They run the gamut from pizzerias that serve simple Italian dishes to cafes or casual, to upscale dining. It comes as no surprise since New Jersey has the second highest number of Italian Americans in the country at 1,503,637, according to the 2000 U.S. Census.
I tend to lose interest quickly when I hear that a "new" Italian restaurant opened. Our market is saturated, but we all have a few favorites, and it's often based on proximity. For some, quantity is a factor; others weigh quality heavier when comparing. I lean toward the latter, but location definitely plays favor. When my preferred casual Italian restaurant shuttered recently, a number of people I know were distraught – not because there is a lack of other choices, but because it had the formula for somewhere you can enjoy frequenting twice a month or more… quality food, hospitality, inexpensive and 10 minutes from home in Bergen County. I mentioned in a previous column that I may have found my rebound with La Cambusa in Garfield. Less than a month ago, however, a new Italian restaurant opened in Bergenfield, called The Recipe, on the corner of S. Washington and E. Clinton avenues.

A repulsive feeling came over me – "oh, another glorified pizzeria serving lots of low-grade-cheese parmigiana dishes to try to qualify as an Italian restaurant." But a coupon lured me in along with dangling carrots of location and cute appearance (the full-size windows allow you to see through as you drive by). My second foot in the door, and I was greeted with a warm smile and a "good evening." That got off on the right foot. The menu is not extravagant but has basic pastas, veal, chicken, seafood and steak dishes, along with a creative list of specials, which only averaged $24.
The menu items were less. My first real taste of The Recipe came after the warm bread and the soup (choice of minestrone or chicken noodle that comes with an entrée) was the eggplant stack appetizer with beefy tomato slices, fresh mozzarella – the top layer slightly melted – thick breaded eggplant slices and a bed of mixed greens, all drizzled with a balsamic reduction. Thumbs up!
I usually test an Italian restaurant with a veal dish or a pasta/seafood combo. The first visit scored an 88 with a veal francese and artichoke hearts ($19). The second visit scored an 89.5 with the Linguini Del Mar red sauce (also $19), large butterflied shrimp, mussels, clams, calamari. The calamari was slightly overdone but not enough to detract from the rest of the goodness. More importantly, I requested very little garlic, and they listened! Finishing the meal with a decent cappuccino was equally important.

When one's expectations are low or none is when the gems are discovered. I hope this passes the initial five-year business test because it has a solid B++ in my book. That could definitely go up as I order more.
Another recent Italian restaurant opening is Rugova in River Edge. It reopened the vacant building that housed Dinallo's. Let us know how you grade these newcomers. Rugova is owned by the same people who have Dimora and Sear House, so they should be good at this.
Evelyn Weiss Francisco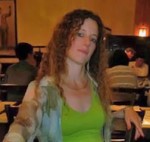 is a Foodie and blogger from the Garden State. Her Blog, "Dishing on Dining", has been running continuously since January of 2012. By day, Evelyn is a busy account executive with a Public Relations firm, by night, a writer with a passion for all things food related.