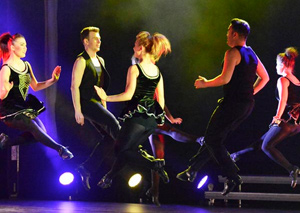 There are more than a few ways to celebrate St. Patrick's Day, and I'm sure most of us have run the gamut, from children's dance pageants to Jameson Bombs down at Kelly's Pub. We've sung the Great Irish Songbook, we went paradin' in Belmar and Collingswood, we saw "Lord of the Dance" at theatres in Morristown and Englewood, and we treated ourselves to a hearty corned beef and cabbage dinner at Rod's in Sea Girt. We came, we saw, we partied…and we recovered.
How shall we celebrate this year? Well, in addition to the usual, how about this…?
CELTIC NIGHTS – A NIGHT OF MUSIC, SONG AND DANCE
The always exceptional Mayo Performing Arts Center brings a performance that goes above and beyond the usual March 17th fare. It is a spectacle and a half!
A spirited St. Patrick's Day celebration of all things Irish! Through music, song, dance and storytelling, Celtic Nights tells the story of Irish independence, honoring the triumphant struggle of a people fighting to gain freedom and democracy.
Just as a plant craves light, Celtic people are drawn to music and song. Scattered around the world like seeds on the wind, they are propelled by the powerful rhythms and motifs of a mysterious and exuberant ancient culture. Music is the soul, the very lifeblood of their tradition. It binds them together, even as it sets them apart. This driving passion for music and dance is the keystone of Celitc identity. Their response to melody, lyric, and the crisscrossing rhythms of Irish dance is reflexive, intuitive, and filled with joy. The Irish embrace their musical culture like no other nation. And their pride in artistry is its own reward. Above all else, it is this natural affinity with music and song that has given Celtic people a truly global voice. A Celtic Voice. Every thundering dance tune and plaintive melody is a separate thread in the broad and colorful tapestry of Celtic music. Spirit of Freedom tells the story of Irish independence, beginning 100 years ago with the Easter Rising. Akin to America's 4th of July, the Easter Rising of 1916 created the Ireland we know and love today. Through music, song, dance, and storytelling, Celtic Nights honors the struggle of a people fighting to gain freedom, independence, and true democracy.
This new Production of Celtic Nights – "Spirit of Freedom" will introduce a multitalented cast, featuring singers, dancers, musicians and actors – celebrating 100 Years of Irish Independence.
 In this production of Celtic Nights, we capture the story as a musical journey of courage, sheer pride and determination. Interwoven among the songs, music and dance are stories of profound love and courage.
Celtic Nights- Spirit of Freedom will take you on that journey of patriotism, revenge, love and courage in a 2 hour spectacular.
Individual storylines will be running through this show– Spirit of Freedom– with costumes and sets depicting the time period.
Celtic Nights – Spirit of Freedom will bring together storylines from the history pages of Ireland. Encapsulating the cry for an independent and free nation through the eyes of heroes and heroines.
Love, passion, spirit of freedom, love of life, liberty and independence.
The audience will be engaged through song, laughter, dance, music, storytelling, narration and stirring visuals.