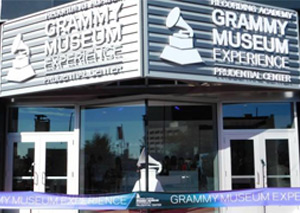 It's no great secret that some of the most legendary names in the history of popular music hail from the state of New Jersey. How's this for a quick laundry list? Frank Sinatra, Frankie Valli, Carole King, Bruce Springsteen, Whitney Houston, Wyclef Jean, Jon Bonjovi, Patti Smith, and let's not forget – Pia Zadora. A veritable who's-who of rock, pop, soul and hip-hop found their roots and got their start right here at the clubs and concert halls from Asbury to Vernon. And now we get to learn more about them and honor them right here at the Prudential Center in Newark.
Credit Bob Santelli, Monmouth University graduate and onetime Asbury Park Press reporter, for delivering the new Grammy Museum to Newark.
Santelli, the founding executive director of the Grammy Museum in Los Angeles and a former Rock and Roll Hall of Fame and Museum vice president, "is as Jersey as Jersey gets," says Daniel Cherry, chief marketing officer at the Prudential Center and founding executive director of the new museum.
The two music fans had been thinking of ways to "pay tribute to the great music of Jersey," says Cherry, a Maplewood resident. Their ideas shifted from a single show to a full-fledged museum. The new facility emphasizes education and interactive experiences—such as a tutorial by E Street Band drummer Max Weinberg on how to master the drum parts of "Born in The USA." In another interactive feature, Wyclef Jean walks fans through the art of writing a rap tune. Though Weinberg and Jean are New Jersey artists, the new museum will not focus entirely on our state. "You'll see a lot of great Jersey legends, but we want this to be a world-renowned music experience," Cherry says.
The Grammy Museum Experience Prudential Center hosts intimate live performances, exclusive talks, and one-of-a-kind learning opportunities.
It is also the perfect venue to host an event –
Grammy Museum Experience provides a one-of-a kind music-infused setting for your event: a state-of-the-art celebration of the power of music. Our Museum has something for everyone: providing cutting-edge exhibits and interactive experiences exploring a host of musical genres, allowing each guest to be educated and inspired.
So go, rock out. It may be cold outside but this joint will be hot.
Prudential Center, Newark