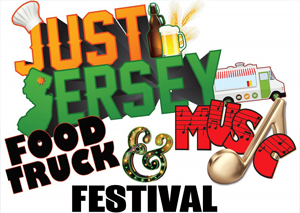 There aren't many people who dislike puppies and kitty cats. Ditto for music enthusiasts who crave a live outdoor concert in a spectacular setting. There aren't many who can resist the aromas and diverse tastes of the multitude of food trucks offering a variety of culinary choices. So what if I told you that you could satisfy all these desires in one day, in one location? Pretty awesome, no? Well, actually, YES!
The Just Jersey Food Truck & Music Festival is a day devoted to fun, culture, music, family, the arts, and fine food. There will be vendors, activities for the kids, including face painting and a bouncy obstacle course! It is also a day devoted to philanthropy, as the Just Jersey Festival is thrilled to have this event support Eleventh Hour Rescue. Eleventh Hour Rescue is made up of dedicated individuals who believe that innocent pets deserve love and a place to live where they are honored and cared for. No dog or cat deserves to die simply because they do not have a home. This wonderful organization will be on site the day of the festival, they will be accepting donations, you can meet and greet the dogs and fill out applications for adoption.
This year's Just Jersey Festival will feature over 25 trucks serving everything from American fare to Colombian, Cajun and Creole cuisines.  Other gourmet offerings include Lobster rolls, Artisan Pizzas, Korean, Empanadas, Tacos, BBQ, Cuban Sandwiches, Pierogis, Steak, Sliders, Wings, Mac & Cheese, Grilled Cheese, Belgian Waffles, Churros, Cheesecake, Cupcakes and so much more including a Craft Beer & Sangria Bar featuring libations from Captain Lawrence, Brooklyn Brewery, Ommegang, Forgotten Boardwalk and Señor Sangria.
The delicious selection of gourmet food is only the beginning.  Get your dancing shoes on and wag your tails to 3 fantastic New Jersey bands. New Jersey's soulful folk-rock duo, The May Darlings, gets the morning started at 10:00am-12:30pm. They will be followed by Till Now, covering the best of music, from the 70's till now from 12:30pm-3:00pm. Closing the night out will be New Jerseys popular cover band, Stereo Junkies, from 3:00pm-6:00pm. WOW! Bring your own lawn chairs and blankets so you can reserve the best seats in the house by the stage and take in the sounds. Don't forget your 4-legged friends as long as they're on leashes. There will be plenty of watering stations throughout the festival.
Music to your mouth and all for a great cause. Sample the finest gourmet food while immersed in the sounds of incredible bands and enjoying a multitude of fantastic family activities. What makes this festival more than just fun in the sun though is that it is also a benefit for Eleventh Hour Rescue.  So come on out, bring your family and friends to the Just Jersey Food Truck & Music Festival on Saturday, May 7th, at the Historic Waterloo Village Concert Field in Stanhope, and show your support for this important organization.