First Ever Beatles Conference Rocks Local University
By Victoria Corinne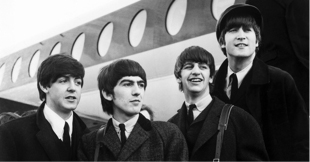 The Popular Music Program at Rider University is gearing up for their first ever Beatles Conference, "Ticket To Rider." What exactly is a Beatles conference, you might ask? It is five hours worth of fun, music and a chance to gain knowledge on one of the most influential bands to ever rock this earth. There will be a discussion panel with Beatles experts and a Q and A session with the presenters. Special guest, International Paul McCartney artist Alan LeBoeuf will sing and talk about his career as a professional Beatles tribute performer, and the national award-winning Princeton Brass Band (Beatles Go Brass!) will also be performing.
Professor Kenneth Womack, one of the conferences guest speakers, is a dean and professor at Monmouth University. His presentation will discuss the band's songwriting practices, recording artistry and musicianship from their early recordings through Abbey Road. Stephen Allen, professor and creator of Ticket To Rider, will discuss the strange and curious relationship that John Lennon had with his mother, and how it shows through John's lyrics. Alan LeBoeuf, the guest artist of the event, will confer his fascinating career performing Beatles music around the world in the Paul McCartney role. He will also discuss the singing techniques he uses to reproduce McCartney's distinctive voice. The fourth and final presentation will be given by a student presenter, that student being myself! I will be discussing what The Beatles taught modern day musicians through sound and emotion.
Rider University is known to put on cool events, but The Beatles conference has to be one of the most exciting in a long time. There are many people at this school that give credit to The Beatles for making them love and understand music, whether they are here to peruse a career in music or not.
"Ticket To Rider" will be held at the Bart Luedeke Center on Rider University's campus on December 5th, from 3-8pm. Admission is free but donations are welcome.