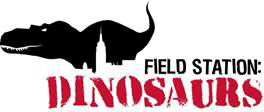 Starting Sat., Sept. 22st the sights and sounds of Field Station: Dinosaurs will take on a new sense of mystery and danger at the parks new Dinosaurs After Dark on Friday and Saturday nights. Guests explore darkened trails of the park with just a flashlight and a rope to lead the way. Imaginations will run wild as the path narrows and the tour turns into the shadows. Was that a scream? What's that moving in woods? Look up and there it is – the T-Rex, its teeth visible in the flashlight's beam as it rears its giant head! No trip to the zoo was ever like
this! Space for Dinosaurs After Dark is limited; tickets are $39 each, and $25 for season pass holders at www.fieldstationdinosaurs.com or at the box office at 855.999.9010. Tickets are $36 each for groups of twenty or more and can be reserved by calling the group sales hotline at 973.748.4317.
Through November 11th, we are open to the public Saturdays and Sundays 10 a.m. to 6 p.m. and:
·         Mon., Sept. 17 from 10 a.m. to 6 p.m.
·         Wed., Sept. 26 from 10 a.m. to 6 p.m.
·         Mon., Oct. 8 from 10 a.m. to 6 p.m.
·         Tues., Nov. 6 from 10 a.m. to 5 p.m.
·         Thurs., Nov. 8 from 10 a.m. to 5 p.m.
·         Fri., Nov. 9 from 10 a.m. to 5 p.m.
Field Station: Dinosaurs closes for the season on November 11 and will reopen in
April 2013.
Field Station: Dinosaurs is a world-class family attraction that combines cutting-edge science with the creative minds of great artists and teachers to create a one-of-kind experience that's thrilling, educational and fun.
Set against the breathtaking natural backdrop of the New Jersey Meadowlands and nestled at the base of a 150 million year old rock formation, the Field Station is an oasis of natural wonder just nine minutes from New York City. Over thirty life-sized, realistic dinosaurs (including the ninety foot long Argentinosaurus, the largest animatronic dinosaur ever made) come to life thanks to the brilliant engineering of the world's leading roboticists and the imagination of our artists.
The story of the dinosaurs is vividly presented on twenty acres of wild, unpredictable woods, mysterious pathways, and mountain trails. Scientists from the New Jersey State Museum have worked to ensure that the exhibition encompasses the latest theories and discoveries in the fields of paleontology, geology, and environmental studies. Workshops, games and activities connect the story of the dinosaurs to our world today, giving new relevance to their lives and power to the tale of their extinction.
And at the center of it all is the fun, the joy and the wonder of dinosaurs. Our expedition takes every family on a shared adventure – full of mystery, surprise and a sense of awe.