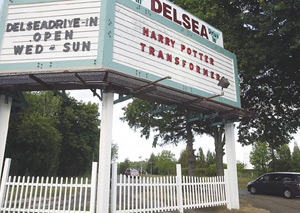 I am both proud and sorry to say I was around during the heyday of drive-in movies. They were everywhere. I actually used to work at the Amboy's Drive-In, located right off Route 9 and the Parkway, just south of the Driscoll Bridge. It became the go-to place to hang with my friends. Since the business is long gone I see no reason not to come clean now… I had a '69 Pontiac Grand Prix that could seat like, 8 people. It had an even bigger trunk. So we'd put two guys up front, who would pay…and 6 more in the trunk, who wouldn't. We'd sort out the money later on, but we laughed every single time we did that, and never once had a bad night (and it's Jersey. Who hasn't had a body in the trunk at least once)?
New Jersey is the birthplace of the drive-in theatre. The year was 1933 and gasoline probably cost about 17cents a gallon. Admission cost 25 cents per car and 25 cents per person. It is safe to say that rising inflation has done more damage with the price of a fill-up than the price of admission. Fast forward to the present. Gas is hovering at about $4.00 a gallon but for the price of just 2 gallons of gas, you can sit comfortably in your vehicle and watch a complete double feature of first run films. A DOUBLE FEATURE. I think the last double I saw was "All the President's Men" and "All the Young Dudes," two films that have only dudes in common. And the vehicle… When I was a kid it was a station wagon. All the little ones would sit in the back in their PJ's, surrounded by pillows and blankets, snacks in hand. Most times we'd never make it past the cartoons. Then as a young adult, I had a van. No, none of my girlfriends' parents would ever let me take them to a drive-in. But we managed. Speakers have come a long way since those contraptions that hung inside the window and always crackled more than a lightning storm in Oklahoma. And you can even rent chairs to sit out in the moonlight.
The concession stand was the mid-movie hangout and generally they were all the same. Burgers, fries, hot dogs jumping into buns… The Delsea has taken into account that some of us plan not to have a coronary event during the second reel. In addition to the regular fast food items they have added healthy choices, such as shrimp kabobs, stir-fry asparagus, teriyaki chicken with edamame, not to mention low-carb items and Atkins selections. Call me old fashioned, but I'm sticking with a cheesesteak and chili fries. And a side order of Lipitor.
This classic outdoor theatre was first opened in 1949 and lasted until 1987 (I think it was Ronald Reagan who decreed "Tear that screen down"). But in 2004 a local pediatrician and film buff, John DeLeonardis reopened the Delsea and is proud to run the Garden State's only existing drive-in. Located in Vineland, it is one of South Jersey's gems, only an hour from Philadelphia, Atlantic City and Delaware (and God knows Delaware needs the entertainment. How many Joe Biden fireside chats are people expected to endure)?
So go, take a date, bring the kids, eNJoy a double feature and a healthy snack. Just promise me…NOBODY goes in the trunk.