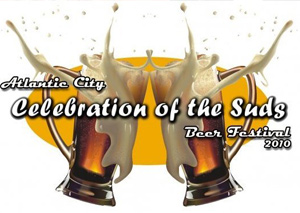 Yes, it is that time again. Every year, the bands tune up their guitars, the barmeisters polish up their mugs and the residents of New Jersey flock to this southern seashore town for the festival to beat all other festivals. And what could top all the other gatherings that promise food, fun and festivities? One word: Beer. And not just beer, but over 100 varieties. Some of the exceptional crafts from Belgium available are Steenbrugge, Rodenbach Vintage, Boon and Duvel. U.S. beer makers include but are not limited to: Boston Brewery (Boston), Brooklyn Brewery (New York), Blue Moon (Colorado), Blue Point Brewing (Long Island), Erie Brewing Company (Pennsylvania), Harpoon (Boston), Keegan's (New York), Ommegang (New York), Peak Organic (Maine), Magic Hat (Vermont), Sierra Nevada (California), Shinerbock (Texas).
Beers brewed in the Garden State include Flying Fish (Cherry Hill), Cricket Hill (Fairfield), Boaks (Pompton Lakes) and more! Our special "Your Old Man's Bar" will feature some of America's historic cornerstone beers including: Pabst Blue Ribbon, Schaefer, Piels, Old Milwaukee, Schlitz, Schmidt's, and Colt 45. For those who love Cider we have you covered with favorites: Woodchuck (Vermont), Woodpecker (England) and Angry Orchard (Ohio). More sensational ciders to be announced soon, as well as additional surprise beers.
The festival hosts many entertainment and special events. The World Series of Poker presents the festival's Mustache Lounge where mustaches are required for entry (don't fret ladies – there will be plenty of fake mustaches for you) and will feature a mustache see-saw. No, I have no idea what that means either. But I'm going to find out!
There will be sand sculptures, beer-and-chocolate pairings, cooking-with-beer demonstrations and a Science of Beer seminar. Performers include rock bands Save the Day, Restorations, Dirty Heads, Still Moon and Less Than Jake.
Because the demand for tickets is anticipated to be enormous, there are 3 separate sessions:
April 4        7-11PM
April 5        Noon – 4PM
April 5        6-10PM
Advance tickets per session: $55. At the door: $60. It all takes place at the Atlantic Center Convention Center, 1 Miss America Way, Atlantic City.
eNJoy beer!