It's a typical Friday evening, heading home from work in Bergen County. I make the anticipatory and, at the same time, dreaded phone call: "Where do you want to have dinner?" There's always an attempt to suggest restaurants to which we haven't been locally, but at the end of the work week, comfort always seems to win. While many aspects of my life are regimented, I like my food and travel to be multifarious. So when the answer from either one of us is ultimately, "Let's just go to Bocconi," there's an air of ambivalence.
A feature in The Record attracted me a couple of years ago: "Dining Out for Under $50". Of course there are zero expectations for a dinner for two under $50 in Bergen County, NJ. Now I can not live without a dose of it at least once a month. Frank Gashi, owner/partner (his partner Mario does the food magic), sent the hook reeling the second I walked in the door and caught the side of my lip with his warm personality and accent. The ambiance has the feel of a coffee/sandwich café, but all that is whisked away from your doubts when you are greeted.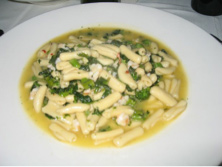 I remember expecting the food to deliver at a level slightly higher than a pizzeria, especially seeing a price of $9.95 for Cavatelli with Shrimp and Broccoli Rabe.
The portion size is quite sufficient in a bowl filled with al dente pasta, chopped up shrimp and a healthy amount of broccoli rabe, in a light broth with olive oil and garlic. The main menu consists of more creative entrees than the run-of-the-mill parmigiana this and that. And the specials list often offers a surprisingly excellent grilled steak, gray sole oreganata with shrimp, the must-have grilled mussels appetizer with that summery charred flavor, among so many others.
There are plenty of items that are not on the menu that are real winners. Out of curiosity, I asked Frank once, "Do you ever make stracciatella soup?" "Of course; whatever you want," is his answer to most any request.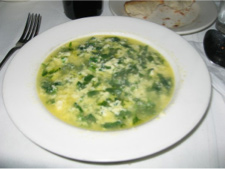 I hate to label this as another Italian restaurant because in New Jersey those get quickly bypassed by folks looking for a more-than-average food experience. I'd guess that there is the same number of "Italian" restaurants as there are Chinese takeouts in Northern NJ. But I'll let you in on a little secret, and maybe this will differentiate it: Frank is not actually from Italy – he's from somewhere very close to Italy, so you get the Italian warmth with a slightly different accent on the food.
So when we say, "Let's go back to Bocconi," we try to fight that response, but deep down, both of us know that our mouths and stomachs will end up more than satisfied, and our pockets won't be heavily emptied.
I admit, we have betrayed Owner/Host Frank on many Friday nights, but most times, when we solicit such an inexpensive harlot that Yelp reviewers speak so highly of, we're the ones who leave feeling cheated. The adage goes "you get what you pay for", but that's why we love Bocconi. It breaks the expression because you get more than what you pay for in quality, quantity and a wealth of hospitality. Shhh, don't tell them.
Save room for the bananas flambé. The tableside prep fascinates the young and not-so-young alike.
bocconi ristorante

363 Essex Street
Hackensack, NJ 07601
(201) 342-3888
bocconifood.com
Hours:Monday – Thursday 11:00 a.m. – 9:00 p.m.Friday – Saturday – 11:00 a.m. – 10:00 p.m.​Closed Sundays – Open for Private Parties Only

Evelyn is a Foodie and blogger from the Garden State. Her Blog, "Dishing on Dining", has been running continuously since January of 2012. By day, Evelyn is a busy account executive with a Public Relations firm, by night, a writer with a passion for all things food related.