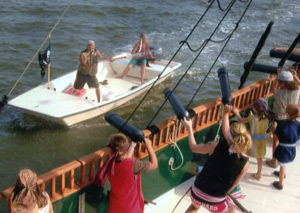 Let me start by saying, "Have no fear, this is not a cruise ship."  I am not here to denigrate the cruise industry in general or Carnival in particular (one woman told me not to make fun of Carnival. "They have a water slide!" I'm like, "Lady, those are exposed pipes.") I am simply a sailor who spends a great deal of time in the Caribbean Islands, where tourism is the number one industry and national product.
I pull into ports that I'm sure even Jimmy Buffett hasn't seen. And yes, I am a Pirate. An over 40 victim of fate. But not the Johnny Depp Captain Jack Sparrow kind of pirate. I never quite got the emulating Keith Richards thing as a valid source of a character reference. No, I like to think of myself as more a traditional scallywag, a stick-to-the-code kind of rascal, and above all, an entertaining chap. A Jersey Pirate. And guess what? I have found myself a ship. I didn't have to go to Jamaica or Barbados or the Cayman Islands either. All I had to do was take exit 63 off the Garden State Parkway and follow the signs to Long Beach Island.
The ship is the Black Pearl (OK, now that does sound familiar) and it is docked in Beach Haven. Or at least until the British Navy finds her. A spacious 60 foot vessel with a 20 foot beam makes it a good sized ship for all your family fun needs. She's new as well, having been christened in 2009. She features all the amenities that a modern yacht would have – bathrooms, a full service bar, entertainment. But it also has something that most seagoing sloops don't have – 12 water cannons. And boy, do they ever get used! Sailing Monday through Friday at 2PM and 4PM, and Sunday at 4PM, the Black Pearl can accommodate up to 78 passengers comfortably. She sails along the protected waters of Little Egg Bay and is always ready for adventure. The hour long trip begins with your children being transformed into little pirates with face paint, tattoos and costumes. They will learn how to talk like pirates, walk like pirates, sing and dance like pirates and curse like… sorry, talking about me again.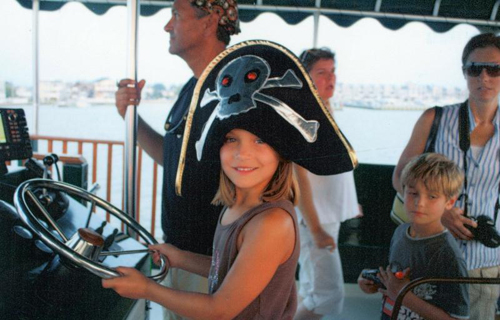 Your now transformed buccaneers will play games onboard, including tracking down the nefarious Pirate Pete, who steals the keys to the Treasure Chest every time. Fortunately, Captain Salty and his new crew find him every time and a giant water battle ensues with water cannons being fired from the Pearl and Pirate Pete's dingy.
Once Pete surrenders the keys you will raise the victory flag and celebrate by drinking grog and opening the treasure chest and all the buccaneers will share the treasure. A good time will be had by all. Or else you can walk the plank.
The Pearl also operates Sunset Cruises Monday through Friday at 7:00PM from July 1st to Labor Day. Calm seas, cocktails and inspirational skies conspire to relax and sooth your mind and body. (I'm so mellow now as I write this that I think I need a nap). The Pearl also handles private charters and parties for every occasion. And if you're one of those dancing pirates, DJ Sal (I love this guy) will be on hand to keep you moving. DJ Sal of course, being from the Italian Pirate Tradition, doesn't say "Arggghhhh" as much as, "Yo, forgetaboudit." Now…show me that horizon…