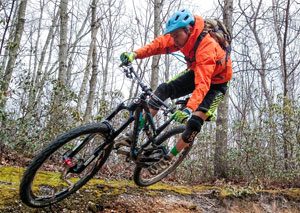 Now that Lance Armstrong has "retired" I think I have a shot at the Tour de France. Plus…I look good in yellow. Now if only I had someplace to train, perhaps a combination of routes and roads and ravines that one could probably only find in the hills and farmlands of Europe. Quelle horreur! But wait, or as the French say, "Wait!" It just so happens that New Jersey has some of the finest, most diverse and most challenging trails in the Mid Atlantic states. Many riders actually come to New jersey to train and I'm pretty sure we have all experienced that Saturday morning, "Honey I'm going to get milk and a newspaper," and run smack dab into a scene right out of "Breaking Away" with helmeted riders in very tight shorts and shaved legs peddling like crazy down Route 46, screaming things at you in Italian that you really don't need a translator for.
There is only one way to inform you of these trails, and that is to give a brief rundown (so to speak, especially if you've ever seen a New York City bike messenger) of a cross section of trails that will have you riding north to south and east to west, and hopefully, substance-free.
BARNEGAT BRANCH RAIL TRAIL
Sixteen miles of trail from Barnegat to Toms River along an old abandoned train track, the 10-foot wide trail is surfaced with stone dust, allowing for handicapped accessibility.
COLUMBIA TRAIL
Passing through Ken Lockwood Gorge, this trail offers great views of the Raritan River and transcends High Bridge to Long Valley.
LIBERTY STATE PARK
A green swath of tranquility in the middle of a bustling metropolis, this 10-mile path also gives you incredible views of Lady Liberty and the Manhattan skyline.
LOANTAKA BROOK RESERVATION
An easy riding day in the park with 5 miles of even pavement in Morris County, the kids will love the duck pond the trail passes by.
PAULINSKILL VALLEY TRAIL
This one is for the more serious and skilled biker who can handle 27 miles of trails in the scenic and rugged counties of Hunterdon and Sussex, in Kittatinny Valley State Park.
DELAWARE AND RARITAN CANAL STATE PARK
Two connected paths of 30-mile trails lead down this even surfaced trail through five counties and several scenic high points.
Ride on Mac Duff. And for the more adventurous, you can always add to the excitement by placing baseball cards in the spokes. Trust me, it drives the Italians crazy.