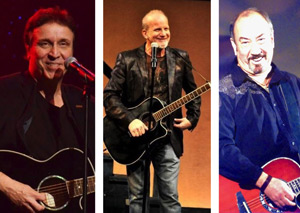 Groucho, Chico and Harpo. Moe, Larry and Curly. Frank, Dean and Sammy.
Not since these legendary trios has an act come along that personifies what the golden days of show business were all about – entertainment.
Ladies and gents, say hello to Dennis, Paul and Gary – THE G-STRINGS!
Three nationally-known comedians who also happen to be singer/ musicians.
It began as most great ideas have all throughout history –over a late-night meal at a diner between Borgata Comedy Club Director Richie Minervini and New Jersey rock & roll comedian Gary DeLena. The concept was alarmingly simple and they both wondered out loud why no one has done it before, or at least since the Smothers Brothers. Put together a few people with similar musical comedy skills. The wheels were put in motion and two names popped out of the hat. They were Dennis Blair and Paul Bond. And so it was, under Mr. Minervini's Super Vision, the three local amigos went to work.
And fun work it was. At the beginning, it couldn't have resembled Vaudeville any closer. The songs and bits were written in the morning, rehearsed in the afternoon and performed onstage at night. But it didn't end there. The natural chemistry of the three led to improvisations on stage that had each member of the band cracking up with the lines being thrown out or the silly sidebars that just "happened." In short, during one fateful week at the Borgata Comedy Club, located at the Music Box Theatre in Atlantic City, an act was born.
As they begin to expand their horizons to Las Vegas and cities across America, they are welcomed back this month to where it all began.
Meet THE G-STRINGS!
Dennis Blair
He is an accomplished screenwriter, award-winning songwriter and comedic actor. Yet he is probably best known for the caustic observations and
musical satires of his live comedy performances.
Early in his career, Rodney Dangerfield made him his protégé, and
together they toured the United States and Canada for over three
years. He hooked up with Joan Rivers and Tom Jones for extended tours, until a 3-month engagement opening for George Carlin turned into a 20-year tour as George's exclusive opening act, until his death in 2008.
Paul Bond
Paul is a New York born, 27 year veteran of stand up with a high-energy act that always finishes on a up, funny note. He's on tour in support of his comedy DVD "You Asked For It". He toured with Jim Breuer, of SNL, for 3 years as his opening act and heavy metal guitar player, has been on "The Roast of Denis Leary," the Comedy Central special, "Hardcore" with Jim Breuer, and MTV's Metallica Icon.
Gary DeLena
Gary has been New Jersey's Rock & Roll comedian for three decades, having earned his chops on WNEW-FM's morning show and as opening act for everyone from The Temptations to Warren Zevon. He's appeared in National Lampoon films, on Showtime and MTV, and as writer for Nickelodeon's Double Dare and Caroline's Comedy Hour.
"Mr. DeLena, who resembles  Burt  Lahr (the Cowardly Lion), but has  the  rubbery  limbs  of  Ray Bolger (the Scare crow), danced, played  the  guitar, and charmed with  his  parodies  of rock songs and  pop singers…" – The New York Times
Enjoy a clip to see what the fuss is all about.
The Borgata January 15-19