I don't particularly try to eat healthy; I just do.  I was raised that way. But the easiest way to do so is to cook your own food. There are, however, more and more health-minded dining establishments popping up. Lunch is tricky sometimes. It's generally not a meal I spend additional money on outside the house. When you're on the go, from morning until evening though, sometimes a good-old sandwich is in order. Nowadays, though, everyone is avoiding gluten like the plague, but I need real bread! A fairly new place opened in Bergenfield, NJ, called The Green Spot, a family business focusing on promoting a healthier lifestyle with a variety of salad (bar), paninis and smoothies. I opted for the banana blue drink: nothing but bananas, strawberries and blueberries blended. I followed it up with a turkey club, substituting the bacon with my addiction for avocado. The décor is welcoming – it feels garden fresh immediately as you step on a green mat with a texture like blades of grass. It was a pleasure to support a new ma 'n pa "spot" in a world of big box.
Visually contrasting is another new eatery in Englewood. When why phone friend Siri told me about a nearby place for takeout lunch, I was surprised that he steered be to a Mobil gas station on Route 4. In a space inside the convenience store sits Jerk Shack Grill. It's not derogatory; jerk is a style of cooking native to Jamaica in which meat is rubbed with a hot spice mixture heavy on the black pepper. My stomach does not favor extremely spicy foods, but it manages a quarter chicken here. One time was far hotter than the previous, so I sense a bit of inconsistency in the seasoning, but both were tasty. There are a few counter stools if you don't mind looking out at the traffic laden Route 4 and some gas pumps. I recommend takeout here. The plantains are soft and sweet as should be. The mac-n-cheese side is worth a try as well. If you're a fan of oxtail, they do it justice. If you're not sure, give it a try. It tastes like beef!
Evelyn Weiss Francisco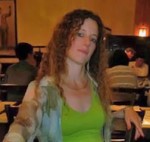 is a Foodie and blogger from the Garden State. Her Blog, "Dishing on Dining", has been running continuously since January of 2012. By day, Evelyn is a busy account executive with a Public Relations firm, by night, a writer with a passion for all things food related.