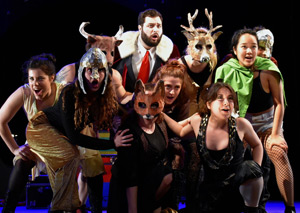 Since its inception over forty years ago, Princeton Summer Theater has provided the Princeton community with great works of theater produced by the stars of tomorrow. PST is dedicated to training the up-and-coming leaders of the theater world and offers students and young professionals experience working in every area of theater production, from performance, to design, to marketing, and everything in between.
Housed in the charmingly intimate Hamilton Murray Theater, PST has helped launch the careers of hundreds of young artists while bringing high-quality, affordable theater to the Princeton area. Some of PST's notable alumni include Tony Award-winning actress Bebe Neuwirth (Chicago), Tony award-winning producer Geoff Rich (Avenue Q), and Hollywood veteran William Hootkins (Star Wars, Batman).
In 1968, seeking to continue their theatrical endeavors into the summer months, Princeton University students and Theatre Intime members Charles Bernstein, Geoff Peterson and Jon Lorrain founded the organization that we now call Princeton Summer Theater. The Hamilton Murray Theater had never before housed a successful student-run summer repertory company, but these bold youngsters were not to be deterred. They organized an ensemble, and Summer Intime was born. It was a huge success, prompting Princeton University to install a much needed air conditioning system in the Hamilton Murray Theater.
Summer Intime prospered for many years, and soon a board of theater- and community-savvy trustees was assembled to advise students involved. Eventually, the company's name was changed to Princeton Summer Theater. 
The theater has seen improved attendance and great critical success every year since. As Princeton Summer Theater continues to grow — this summer presenting a more ambitious season. It remains committed to making challenging, entertaining plays accessible to the Princeton community and hopes to do so for many summers to come.
Agatha Christie's Spider's Web
World-renowned crime novelist and playwright Agatha Christie brilliantly blends the genres of mystery, comedy, thriller in this fantasia on her typical whodunit work. "Spider's Web" follows eccentric socialite Clarissa, who discovers a man murdered in her drawing room, having spent years spinning extraordinary tales of mystery to anyone who would listen. Drenched in suspense with surprising moments of levity and wit, "Spider's Web" offers a unique and rewarding departure from the usual Christie canon.
The Crucible                                                                                              Regarded as a one of the foremost classics of American theatre, Arthur Miller's The Crucible uses the proceedings of the Salem witch trials to examine the manic effects of mass hysteria in society. As an increasing number of upstanding townspeople are accused of witchcraft, Miller emphasizes the contagious nature of fear and the elusiveness of truth. The 1953 Tony Award-winning play invites us to question the importance of upholding morality in times of hardship.
Agatha Christie's Spider's Web July 13 – 23
The Crucible July 27 – Aug 6