I will admit I am a bit of a dessert snob. After all, my mother is a baker by way of Europe. If I eat dessert out, I seek European pastries, cakes or pies. They tend to contain less sugar than American desserts and sit in your stomach a little less like cement. Italian bakeries are present (but not as abundant anymore) in New Jersey if you would like to pick something up and bring it home or to a friend's house – Rispoli's in Ridgefield, Il Dolce in Hawthorne, Gencarelli's in Bloomfield. But what happened to the days of dining out and then going to a café afterwards for dessert and coffee?
On a recent Saturday evening, I dined out at an Asian restaurant in Fort Lee. Asian restaurants tend to deprive us sweet snobs of satisfying our need to wrap up the culinary experience with a bow. They don't allow us to divulge in the aroma of coffee, and they try to swindle us with orange slices that come across as saccharin. My first inclination is to be a disloyal Jerseyan and run to Greenwich Village to my favorite Italian pasticceria. After all, it's 9 p.m. Where could I go for a sugar and caffeine dealer at this hour in New Jersey and actually relax? After seeing the traffic at the GWB, I begin to panic for my fix. My brain recalls a name and a town being mentioned to me and the possibility of the atmosphere I need right now. I search for Palermo's, Ridgefield Park, enter it into my GPS and arrive in six minutes at a storefront bakery that is rolling up carpets. No! I must have made a mistake in my rushed state of mind. I search again and remember…Palermo's, yes, but Little Ferry. In just another five minutes, which would've been impossible in NYC, I arrive at a palatial Roman-looking building with complimentary valet parking.
Palermo's Bakery opened this location last year as Palermo's café for people who long for an establishment where they can relax and socialize over dessert and coffee. Upstairs is the Cake Lounge, which according to the web site "is a contemporary restaurant, lounge and bar that is inspired by classic Italian cuisine with a sweet twist. As a brand extension of Palermo's Bakery, known for their pristine cake making across the metropolitan area, the Bruno family created The Cake Lounge to better service their clientele with a unique Italian dining experience." The baking for all of their locations is now done on premises here in Little Ferry. The young woman behind the counter noted that they are known for their cannolis, but I opt for a small work of art that was a light chocolate mousse tower, accompanied by a latte. Both were very gratifying. Palermo's also offers light fare such as wood fire pizza and sandwiches.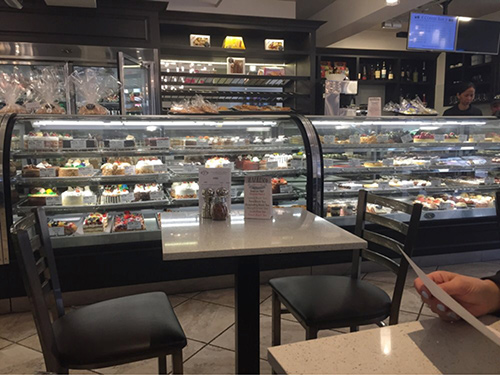 Fear not, for there are some other Italian bakery cafes that may be open after the dinner hour. Try Palazzone 1960 in Wayne or Calandra's in Caldwell and you won't have to pay a toll.
Evelyn Weiss Francisco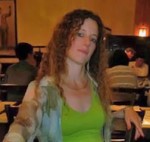 is a Foodie and blogger from the Garden State. Her Blog, "Dishing on Dining", has been running continuously since January of 2012. By day, Evelyn is a busy account executive with a Public Relations firm, by night, a writer with a passion for all things food related.