Supermarkets are fixtures that practically define our almost-daily lives. From Don DeLillo's White Noise, supermarkets help everyday people cope with the world around them. The one supermarket that New Jersey only shares with five other Eastern U.S. states is ShopRite! And I am a ShopRite girl.
In a sense, one's choice of supermarket is very revealing of his/her lifestyle: your eating habits, maybe economic class or economic sense, your neighborhood, etc. I'm frugal when it comes to necessity items, so my PricePlus card makes me feel accomplished. I've compared prices in other supermarkets and stand by the "shop right for less" tagline. I'm a bit biased because I grew up a block away from one and of course worked there as a teen, but I also worked on the corporate side.
I enjoy knowing and connecting with the owner(s) of establishments I frequent. ShopRite is a cooperative, and most stores are family owned. It is the largest retailer-owned cooperative in the United States and the largest employer in New Jersey. Knowing and seeing members of the Glass and Inserra families, owners of a good portion of the North Jersey ShopRite locations, in the stores, gives me the comfort of supporting a "family business".
One of the newest ShopRites to open is Inserra's Wallington store. It's more like an eatery than a typical supermarket. It has an in-store eatery with offerings by restaurant-trained chefs, full-service catering, a sushi stand, a Lavazza coffee and bakery shop, as well as a pharmacy, dietitian's corner, and soon-to-come liquor store and ShopRite from Home services. I was invited to the opening last week, and I never thought I'd say this, but in a rush, I would sit down and eat there after tasting the porchetta that was carved in front of me. It was actually delicious.
Each ShopRite pays attention to the ethnic centers of the neighborhoods in which they are based, such as serving kielbasa and pierogies in Wallington and selling chicken feet and oxtail in Perth Amboy, making the customer feel "at home", not having to go to a specialty food store.
New Jersey has no shortage of supermarkets to choose from, but take advantage of the competitive pricing for the quality meats, seafood and vegetables that ShopRite has to offer. Chances are, if you leave New Jersey, you won't see that gold, black and red shopping cart logo.
Evelyn Weiss Francisco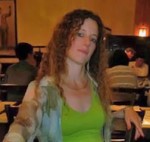 is a Foodie and blogger from the Garden State. Her Blog, "Dishing on Dining", has been running continuously since January of 2012. By day, Evelyn is a busy account executive with a Public Relations firm, by night, a writer with a passion for all things food related.