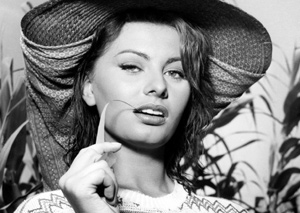 That name is universally known from country to country and continent to continent. It is a name that conjures up images of Italian cities and courtyards, of lusty Tuscan mornings and meals that last for three days. It is a name of passion, beauty and stories. What I would give to actually hear these tales close up and possibly meet her in person? I would give up a Friday night and a few bucks, because this is really happening, at the Event Center in the Borgata this coming Friday, March 11.
Appearing onstage to air clips of her films accompanied by the background gossip that happened off camera, Ms. Loren has accumulated a lifetime of relationships, professional encounters and twisted tales of Hollywood. Her career is amazing…
By her late teens, Sophia was playing lead roles in many Italian features such as La favorita (1953) and Aida (1953). In 1957, she embarked on a successful acting career in the United States, starring in Boy on a Dolphin (1957), Legend of the Lost (1957), and The Pride and the Passion (1957) that year. She had a short-lived but much-publicized fling with co-star Cary Grant, who was 31 years her senior. She was only 22 while he was 53, and she rejected a marriage proposal from him. They were paired together a second time in the family-friendly romantic comedy Houseboat (1958). While under contract to Paramount Pictures, Sophia starred in Desire Under the Elms (1958), The Key (1958), The Black Orchid (1958), It Started in Naples (1960), Heller in Pink Tights (1960), A Breath of Scandal (1960), and The Millionairess (1960) before returning to Italy to star in Two Women (1960). The film was a period piece about a woman living in war-torn Italy who is raped while trying to protect her young daughter. Originally cast in the role of the daughter, Sophia fought against type and was re-cast as the mother, proving herself as a genuine actress and displaying her lack of vanity. This performance received international acclaim and was honored with an Academy Award for Best Actress.
Sophia remained a bona fide international movie star throughout the sixties and seventies, making films on both sides of the Atlantic, and starring opposite such leading men as Paul Newman, Marlon Brando, Gregory Peck, and Charlton Heston. Her American films included El Cid (1961), The Fall of the Roman Empire (1964), Arabesque (1966), Man of La Mancha (1972), and The Cassandra Crossing (1976). She gained a wider respect with her Italian films, especially Marriage Italian Style (1964) and A Special Day (1977). During these years she received a second Oscar nomination and won five Golden Globe Awards.
These days Sophia divides her time between Switzerland and Los Angeles where she is close to her sons and their families. Despite her position as showbiz royalty, she relishes her discrete, low-profile lifestyle, claiming throughout the years "Show business is what I do, not what I am." With a career that has already spanned six decades and been honored with 50 awards, Sophia Loren remains one of the most beloved and recognizable figures in the international film world.